For some, passion for speed and power is hardwired into their DNA. For New England native, Jody Perewitz, Land Speed Motorcycle racing was a natural-born evolution in her upbringing.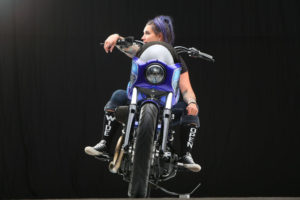 Born in Bridgewater, MA, Jody Perewitz has been on 2-wheels since she was old enough to walk. Her father, Dave Perewitz, has been involved in automotive customization since the late 1960's. Opening his first shop in 1973, his focus shifted to 2-wheels as his lifelong passion of motorcycles became his calling via Perewitz Cycle Fab.
"My dad started working and painting cars with a bunch of friends on the late 60's. He quickly moved on to motorcycles. He opened his first shop in 1973. He is still painting in our booth and wrenching on bikes."
Growing up, Jody would tag along with her brother Jesse in everything he did. He had a passion for small engines, and Jody would often learn from him in his adventures.
When we were younger we would race in the woods or fields around our parents property. A few times we would race at a local motor cross track. My brother was always will to teach me whatever he knew, whether it was how to ride or how to fix things. Still to this day my brother and I are very close and i look to him for advice and/or knowledge.
But as they got older, it was Jody who would possess the 2-wheel passion gene, living and breathing motorcycles like her father.
My brother, Jesse, is a superintendent at a local golf course. He also has a small engine repair business on the side. He has helped my father with the business in the past, but motorcycles just aren't his thing. He is very good at what he does and, like my father and I, he has a passion… its just that his is for small engines."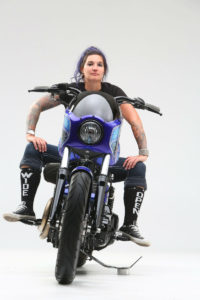 When Jody completed high school, she wanted her chance to make the jump into the family business. But her dad had other ideas, and insisted on her attending school. Earning a full scholarship from the University of Massachusetts, Jody pursued her bachelors degree in Political Science before jumping head first into the motorcycle industry after graduation.
My major in college was Political Science. My degree does not help me so much at work, but some business classes I took have been helpful. I like the fact that I can always fall back on my degree and even someday apply it to motorcycles. I am glad my parents pushed me to finish school."
Now, she is an integral part of the family business, and has mentored under her father in the craft of custom painting. Jody handles the marketing functions for Perewitz Cycle Fab, taking care of event planning on their Paint Shows and Bike Nights. She also works on parts ordering and customer service. But her heart is in the paint booth, and she tries to spend as much time as possible perfecting her craft when not taking care of the daily shop needs.
I have done about half dozen full motorcycle paint job as well as tons of helmets, mugs, yeti cups, and other random things. I love being creative and artistic."
Jody Perewitz – Land Speed Motorcycle Racing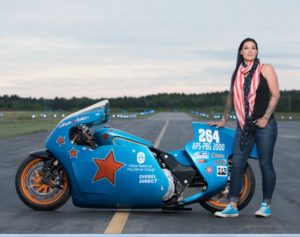 It wasn't until 2011 that Jody Perewitz discovered Land Speed Motorcycle Racing. Having only done some local racing against her brother, she entered the Bonneville Land Speed scene after purchasing a Christmas trip for her dad. Once she surprised him with the trip, it was her dad who brought up the idea of racing herself.
I bought my dad a trip to Bonneville for Christmas. He said 'Well Jod, we can't go to Bonneville and not race.' So I said 'OK, I'm riding it'!"
Jody looked into the different records and class structures, and discovered that the record for the fastest female on an American made bike hadn't yet reached the 200 mph milestone. Making that their new goal, Jody and her father set to work finding some sponsorship partners to begin their first Bonneville Land Speed Motorcycle racing attempt.
My first bike was 100ci supercharged twin. The class we were in was special construction frame, partial streamline, pushrod, blown, and either gas or fuel, 1650. We worked feverishly for 2 months on building this bike. We have been building bikes for 30+ years, and don't get me wrong, our bikes are built to ride, but also to look nice… this bike was not at all about looks. We needed function and SPEED. Something we weren't used too… so it was a little challenging. But we had really good resources, advice and help, and we made it happen."
Her first Landspeed outing with the bike was at Loring Air Force Base in Limestone, Maine. Setting up there to test the bike, Jody would get her first experience and much needed seat time in Land Speed racing trim. It was her first time to even ride the bike, so after arriving, she rode around the track in normal clothes to get the feel of the new land speed machine.
It was a beast! Definitely nothing I was used to, but I knew I could adjust and learn."
After getting acquainted with the bike, Jody Perewitz was ready to put on her brand new racing leathers. Having never worn full leathers before, the racing attire presented a new challenge for the rookie – trying to get comfortable in stiff protective clothing.
Getting on the bike became a challenge! My leathers were heavy and stiff, when I went to take off on the bike, I couldn't get my feet up. The leathers were so awkward at first, I couldn't find the pegs."
Set up solely to race, the bike was also very different than anything Jody had ever ridden before. Pegs and seating position were maximized for racing, and had the rider tucked in a race-hugging position on the bike. Jody, an accomplished rider on the street, was far out of her element on a land speed motorcycle. This created some apprehension and anxiety for the land speed rookie.
"I said to my dad, 'I can't do this, I can't even get my feet on the pegs!' I was worried at that point, but my dad said 'Oh Jod, come on, you can do this, you just have to practice'."
And practice they did. Over and over, until Jody could confidently and consistently get her feet on the pegs quickly. That encouragement and a little practice was all she needed, she was able to get much more comfortable on the bike. Improvements came quickly as their trip to Bonneville approached. That early apprehension did nothing to deter Jody from her goals.
"I honestly think that has been the only point in my race career that I was nervous or upset," she added, knocking on wood. "But my dad's confidence in my quickly washed it away. We set a land speed record at 164 mph with out the fairings on that weeeknd. At the time we were ecstatic at that speed!"
About a month after Loring, Jody and family headed west to Bonneville Salt Flats. In addition to being the designated rider, Jody also helps out by cleaning up the trailer, driving the truck on the long hauls, and coordinating the parts and other sponsor efforts. The bike, which they tested minus the body fairings during their Loring outing, was now finished and ready for the big Bonneville journey. Her first time trial on the Bonneville Salt Flats would mark the first time riding the bike with a full fairing/partial streamline body.
"I took some good advice from fellow racers about the wind and riding with a body. I got the hang of it immediately. There were a few moments of the wind pushing me, but I used the advice I was given and quickly adjusted. Bonneville is just a mystical place… Even if I stopped racing now, I will always be so proud to say I raced an American motorcycle that we built at speeds over 200mph on the Bonneville Salt Flats!"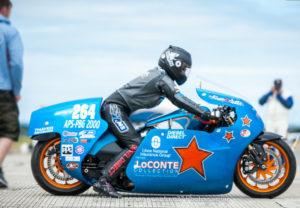 But Jody rose to the challenge easily. Her rookie attempt landed her as the fastest female on an American Motorcycle at 203 mph. This earned her entrance into the prestigious Bonneville 200mph club, and the respect of her peers.
When we first said we were going to race at Bonneville, and that our goal was 200mph, people would literally laugh and say good luck or I could just read peoples expression that they thought 'Oh ya, sure you will'. It became a point where I stopped telling people I was going to go over 200. I had complete confidence that we could do it! All of us working together including the weather/salt, we would do it. When we did hit 200 there was probably 25 people who came up to me and said 'Wow, I never thought you would do it'."
Jody has made the return to the salts several more times in the following years, and is in her 6th year of competitive racing. She holds 15 total land speed records; 4 No. 1 AMA plates, the world's fastest female on an American bike, a seat in the Bonneville 200 mph club, and other notable achievements.
Racing at speeds of over 200mph is the coolest! Also being able to say I have raced at the Bonneville Salt Flats is pretty unique. Last year, there was a little over 300 people racing and only 19 were females. We are going back to Bonneville this year as well as some other races. I want to beat the man's record for fastest v-twin. So, it looks like I will be pushing to go 245 mph ultimately …that is, until they go faster! We will get there, it's just a matter of time! I am very proud that motorcycling is not just my passion, it's in my blood."
Jody will return to the salt this year in the APS_PBG2000 category with a partial streamline, 315 horsepower, 120ci turbocharged v-twin with a 5-speed transmission. Last season, she ran a smaller 100ci supercharged entry, and is looking forward to the push forward with the new powerplant. The hardest part has been finding the funding to be able to compete each year, and thanks to the sponsors that have supported her, and the confidence of her father, she has been very successful in her quest. As far as what it takes to chase her racing dreams, she offers this advice:
Hang in there! Don't give up, it might take a little longer or a little more work but if you believe and stay confident it will happen."
We can't wait to see where she will end up next!