At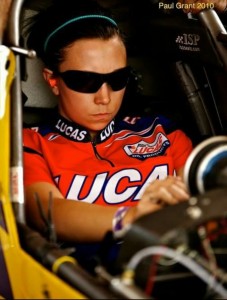 the young age of 26, Ashley Huffman has amassed the colorful resume of a seasoned veteran in Drag Racing.   Her racing career spanning 18 years, she has driven everything from Junior Dragster up to Top Alcohol Dragster, and has her sight set on returning to the TAD class for that elusive Wally.
Starting on the Ice: A Family Passion
A third generation racer, Ashley comes from a long racing pedigree.   Her grandmother Jackie and father Rick both accomplished snowmobile racers, Ashley's first experience at competitive racing came at age 8 when she entered the kid's class at the "Grass Drags" snowmobile race aboard a Ski Doo Mini Z.    She took second place in her first race.
…the only reason I didn't win was because the other kid had wheels on his sled.  Competitive much? [she laughs] After that moment, I was hooked and have been racing ever since."
Ashley continued racing snowmobiles that year, finishing 2nd overall.  The following year, she improved and took 1st place overall in the class.  Huffman's family moved shortly after from her hometown of Saskatoon in the Canadian province of Saskatchewan to Calgary in Alberta.   Her father continued racing snowmobiles on pavement for some years, and Ashley would get her introduction into drag racing's Junior Dragster program.  At the age of 10, her parents bought her very first Junior Dragster, which she would pilot to 16 second elapsed times in the 1/8th mile.    She won her very first race out in the class, and spent all summer at the track with her family, enjoying the sport they all loved together.
Junior Dragster to Super Pro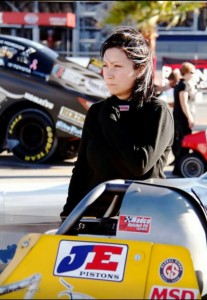 The family passion continued on for Ashley well into her teen years in the Junior Dragster class.  At 13, she would represent Canada in the 2002 World Finals, placing 3rd overall.   She would pick up the Division 6 National Open event win in Ashcroft, B.C. in 2003, and the Medicine Hat, AB event win in 2004.  In 2005, she would finish as the series champion in the Junior Dragster points chase.    Turning 16 that year, Ashley would make the move to Super Pro for the following season, the rookie year for her in an adult class.   She would finish 2nd in overall points for Super Pro.
 I will never forget one race in Saskatoon, Saskatchewan, I was 16 and I was racing in S/P for the Wally! I made it all the way to the final round, I was so pumped my first Wally final in an "Adult Car" and not a Junior Dragster.  I was in the staging lanes all belted in and my opponent came up beside me and his crew guy came over, looked at me, then looked at the name on the side of the car and yelled at his driver "YOU'RE RACING A GIRL, YOU GOT THIS IN THE BAG"! I remember my dad was pacing because he was so nervous that I heard this guy, and I did but I blocked it out and showed him that even A GIRL can win the big races and sure enough the Wally was handed to me at the end of the day! It was a very proud moment for me!"
Licensing in Top Alcohol Dragster
With such su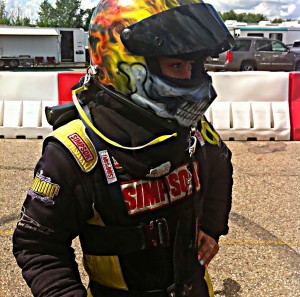 ccess throughout her teen years, the culminating highlight came in the form of a very special high school graduation gift from her parents.   17 year-old Huffman would fly down to Gainesville, Florida to attend Frank Hawley's Drag Racing School in hopes of completing the Top Alcohol Dragster Program and earning her TAD license.   The 3-day school consisted of classroom instruction, cockpit orientation and 2 days of on-track performance review.  Florida weather condensed her track time significantly, forcing Ashley to make 6 runs in the dragster in one day.   The process was mentally and physically demanding on young Huffman, who was overwhelmed by a combination of excitement, nerves and adrenaline. Less than 10% of drivers complete the requirements to satisfy the tough TAD Licensing test during the 3-day course, but Ashley defied those odds, becoming the first and only Canadian female to license in Top Alcohol Dragster.
I actually ended up doing the school  with Diana Harker and her sister Kate was there for support.  Kate already had her license at that time. It was really neat to do the school with another female racer! Frank Hawley puts on an incredible school, I learned so much from him and his team and the classroom time that I had with Frank was immeasurable! That man knows Drag Racing inside and out and taught me how to be a better driver!"
Ashley began her Top Alcohol Dragster career as a driver in 2008.  She was named the Most Improved/Up & Coming driver in 2009, and took her first win at the 2010 IHRA  Nitro Jam Rocky Mountain Nationals in Edmonton, AB, becoming the first female to ever win in the class, the first event winner from Canada, and the first blower car in the class to record a win.
I was so pumped to be racing there since it was one of my hometown tracks, the stands were full and I was ready! I ended up winning the race and became the first blown dragster to win, the first Canadian and the first female to ever win in that class and I did it all at home! I was so proud of not only myself but my entire team! It was definitely a great moment."
Being just 21 years old, Ashley found she really had to work hard to earn the respect of racers in the series, adding that she dealt with her fair share of rumors and critics.     She didn't let it get to her, choosing instead to let her performances on the track speak for her, earning their respect.
I definitely had to prove myself to all the racers and show that I deserved to be there just like them.  There were always RUMORS going around and some people just did not have nice things to say about me, and that's fine. I proved myself when I was on that track. I proved that I loved drag racing and that I could compete with them and that I earned my stripes."
2011 would be the last in TAD for Huffman, as she would step down as driver and returned to her own racing program.
Return to Family-based Racing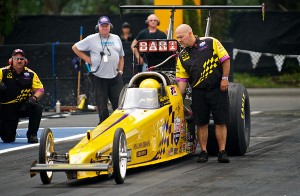 Now 26, Ashley has returned to racing in the Top Dragster class, driving the family-owned 2006 TnT Dragster with a 565"BBC in Edmonton's Top Eliminator Club series.   The car runs consistent 7.18 second E.T.s at 190 mph.   The entire family has a hand in the race day activities, a fact that makes Ashley proud "…we either all do this together or not at all!"
I honestly could not continue in this sport without the help from my Father, Rick, Mother, Barb and Husband, Chad. They are my rock and they all play very crucial roles in our racing operations! My mom is my biggest supporter and fan and has always been there for me through the good weekends and the bad weekends. My Dad was my first crew chief and I have so much respect for him and his love of drag racing. I can guarantee you have never met a man as passionate about drag racing as my father.  He has taught me how to be a driver, and I can only hope that one day I am as good as he is.  My Husband, Chad grew up at a race track so he is no stranger to the drag strip.  He would always be at Castrol Raceway in Edmonton watching his Uncle race every weekend and now with me I have brought him behind the scenes and he is on the line right there beside me for every run! He supports me in every single way and has made every effort to learn every possible thing about drag racing"!
Ashley Huffman beyond the track
Away from the track, Ashley works as a marketing analyst for a large global oil and gas service provider.   She fills her spare time practicing yoga, adding that it helps keep her focused at the races as well.   She has the mantra "Breathe" tattooed on her clutch foot as a lasting reminder.
I do a ton of yoga, and I find that being able to find that calmness and allowing yourself to just breathe really helps when you are racing, plus you get a killer workout ;).  Regardless of what class you are racing in or how fast your car goes, drag racing is all about being FOCUSED!  If you're not focused and in the zone you are not going to be all that successful!"
Looking to the Future
Huffman plans to continue racing her T/D program.   She and her husband Chad are in the process of purchasing the dragster operation from her parents, allowing them retire in their beautiful home in Huatulco, Mexico.
She hopes to be able to save enough for a return to the Top Alcohol Dragster class.   Ashley would love a TAD return for a chance to claim her first Wally.
I think the biggest road block for any racer is sponsorship and financials to continue travelling to all the races, entrance fees, fuel, parts etc.  One of our biggest road blocks was living in Canada and racing in the United States. Every race was at least a 12-24 hour tow.  That gets expensive really quickly.  Without the help of all of my sponsors, I would have never been able to follow my dream!"
Although sponsorship can be tough to find, especially for the costs associated to running a Top Alcohol Dragster program, Ashley remains focused and optimistic.   She adds that this is one of the most important keys to finding success as a woman in the sport.
DO NOT LET PEOPLE DISCOURAGE YOU! You can do anything that you want to do, male or female.  There are always going to be people who don't have anything nice to say, but at the same time, there will be so many more people who stand by behind you, root for you and support you.  Keep those people close because at the end of a long hard race day when you lose a race by 0.0007 and give the stripe back, you need those people there!"
Ashley loves entertaining questions from other ladies wanting to try racing on her social media accounts.   She adds that talking to other racers and teams can really help newcomers learn the ropes and make friends in the pits.
We are all pretty friendly and love talking to other people about our race cars! I love seeing women getting into this sport and there are definitely a lot more women now than when I first started racing."
After all, Ashley Huffman said it best herself (on the back of her Alcohol Dragster Hero Card):  "It's all fun and games, 'til you get beat by a girl"