Mackenzie La Rue | Child's Play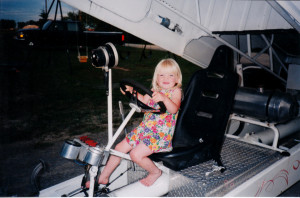 Truck pulling has been in Mackenzie La Rue's DNA since birth.   The 22 year-old grew up traveling with her father in the family's hauler, attending truck and tractor pulls in their native Canada and all across the United States.    As a 30-year truck pulling veteran, Mackenzie's dad was a competitive player in the sport, and Mackenzie took note from an early age, getting involved in the family passion from the time she was able to operate the tow-back vehicle.   She served as crew chief for her father, aiding him in pursuit of his 2005 National Tractor Pullers Association points championship title.   That experience is what she credits to inspiring her to get behind the wheel herself of her very own truck pulling machine.
In 2005 my dad was the points champion of the National Tractor Pullers Association, which involved us campaigning his truck called Poison Ivy all across the United States.  It was then that I decided that I wanted to drive one day.  When I turned 16, my dad built my first truck, which I named Child's Play, out of the spare parts he had lying around the shop."
The Uxbridge, Ontario native expanded her duties as crew chief, getting comfortable with the trucks initially through her work at the shop – starting them up and moving them around the pits.  But tractor pulling doesn't exactly offer a training course for driving these powerful machines, so getting behind the wheel of her own truck was a leap of faith, jumping in with both feet.
Before my first time driving I practiced backing up in the truck a few times and other than that I could not practice.  I learned by listening to my dad and following his instructions.  But I also learned by making a lot of mistakes!"
Child's Play – Making it look easy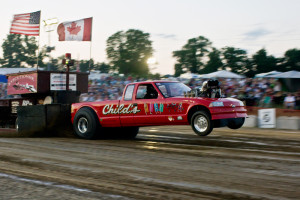 Tractor Pulling is known as "the world's heaviest motorsport," with the goal of determining the strongest machine and the best driver. Different to every other motorsport in the world, it is not about the speed, but distance pulled.    The distance from start to finish is measured in thousandths of an inch and the tractor that pulls the sled the furthest distance is declared the winner.
Mackenzie competes in the Super Modified Two-wheel drive category of the Ontario Truck and Tractor Pullers Association in her 'Child's Play' Chevrolet S-10 equipped with a 526 inch blown hemi power plant.   These machines are modified into high torque, high horsepower monsters that are intimidating to average person.  For Mackenzie, having to overcome the fear and nerves was the most difficult obstacle to overcome personally when getting behind the wheel of the 2,500 horsepower machine.
My biggest road block that I have had to overcome is the fear that comes with driving something so powerful.  My entire first year driving I would get myself so worked up I would cry as soon as I finished pulling.  Had it not been for my dad encouraging me to continue, I believe that I would have quit driving that year.  It's hard to develop confidence in something that happens so quickly you often cannot remember what you did!"
Driving these machines takes quick thinking and fast reactions, and Mackenzie focuses on keeping the truck straight with the front wheels in the air.   Using hand brakes, she is able to correct and keep the truck from drifting out of bounds by applying pressure to the brake in the opposite direction of the pull's drift.   This takes finesse and quick judgement, because utilizing the brakes sacrifices distance, but waiting too long to correct can result in out-of-bounds disqualification.  All of this takes place in seconds.
When I first started driving I actually could not tell you a single thing I did in the truck, it went by too quickly.  With more experience and less nerves I'm now a lot more aware of my actions.  Usually you try to wait as long as you can before hitting a brake, but sometimes it won't respond if you wait too long.  Before I pull I'm constantly running through my head what I should do.  Depending on the track I usually know how I should be opening the throttle before I hook to the sled, so I often practice the speed that I should be moving my hand.  I always try to remind myself what brake to hit before I pull also, if there is a more muddy side to the track I'll know that I will likely get pulled that way.  Since you have to hit the opposite side brake to correct it, I usually remind myself before I even get on the track!"
Growing up in the sport, many of Mackenzie La Rue's competitors had known the young driver her entire life and considered her family, so she has always had plenty of support behind her as she developed her driving skills.
I have been very lucky in my 6 years of driving and I have never once received criticism from fellow competitors," said Mackenzie.    "I was welcomed with open arms into the sport and I have always been encouraged to continue."
La Rue would go on to claim the 2010 Great Lakes Truck and Tractor Pullers Association Points Championship and the 2010 Central Ontario Tractor Pullers Association Points Championship her first year as a rookie in the two wheel drive class, one of the youngest and first women to win the championship.    She defended her Ontario Tractor Pullers championship in 2011, earning a repeat title.
Mackenzie has now been competing for six years, and the college student, who is nearing her graduation with a teaching degree, truly enjoys the time she gets to spend alongside her father in the truck pulling circuit.    They run a two-truck team, with both playing roles of driver and crew chief for the other's truck.
We both campaign trucks in the same class, and although we are a team, it's still fun to be competitive with one another.  My dad is also our mechanic, chauffeur, and my driving instructor.  He is amazing and works so hard to keep our team running, it would be impossible without him!"
Between pulls, Mackenzie and her dad run routine maintenance on the engines to prepare for the next hook.  They service spark plugs to evaluate their engine tune, and make adjustments to the fuel settings based on how the plugs burned from the previous pull.    Valve adjustments are made and oil filters are checked for any indicators of damage, sometimes requiring more in-depth tear down between pulls.   Engine refreshes occur between events a few times throughout the season, and a complete overhaul is done during the offseason to ensure a fresh powerplant for the next season.
Truck Pulling into the future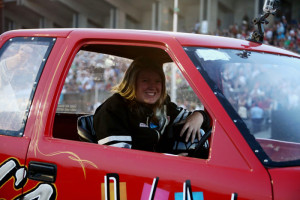 Mackenzie's grown as a driver in the past six years, and hopes to continue on in her local series, with the ultimate goal of racing in the National Tractor Pullers Association and following in the footsteps of her father to win a championship title.  She is proud of her achievements in the sport, and enjoys surprising fans when she gets out of the truck at the pulls.
…Being a woman in pulling, it's always funny to see the looks that you get when people realize you're a driver.  I have gotten a lot of people saying "YOU drive THAT?!" which always makes me laugh!"
Mackenzie says that building her confidence up has been key to her success.   She learns from every pull and keeps nerves in-check.
The number one thing I have learned from tractor pulling is that you need to have confidence in everything you do!  You need to be proud of your achievements and not let nerves and fear overshadow what you can truly do.  It's easy for me to get out on the track and let the nerves get to me, before I even pull I'm already beating myself!  It's much harder for me to go out there and be confident in my ability, I have to constantly remind myself 'I can do this!'. Even when you lose you can always find things you've done well in a pull, even if it is the simplest thing, like backing into the sled really straight."
Though she vows to remain loyal to her roots in the supercharged/alcohol based powerplant ranks, Mackenzie has high hopes for something with even more power in the future.
I've grown up in the two wheel drive class and I love it, but in the future I'd love to step into something with a bit more power.  Our trucks currently make between 2500-3000 horsepower.  There is a class called the Light Unlimited Modified class which I would love to explore.  It is a modified tractor class that allows for 2 supercharged alcohol engines.  I think it would be interesting to double the horsepower I'm working with but it would also double the work!"
Whether its 2,500 horsepower, or 10,000 horsepower – inch by inch, Mackenzie La Rue is making the world of truck pulling look as effortless as Child's Play.   We can't wait to see where her career will lead her next!
Best of luck, Makenzie La Rue!