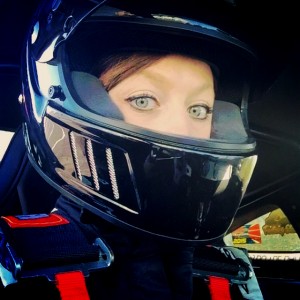 Dating back to when she was just a teenager, 28 year-old Sondra Leslie has followed in the family drag racing tradition.   The sister of NMRA Factory Stock racer John Leslie Jr and Street Outlaw Crew Chief Melissa Urist, the Munster, IN native began her racing experiences over 15 years ago, learning the family racing habits.  Since then, she's graduated to her own NMRA Factory Stock race operation, adding another accomplished driver to the family tree. 
Racing in the Blood
I was almost inevitable that Sondra would follow in the family footsteps.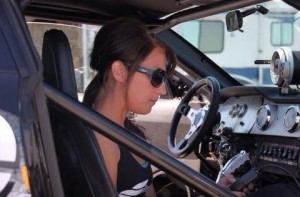 Much like her other siblings, Sondra would spend her teenage years at NMRA events across the country, helping and learning from her brother.   Before she was even old enough to drive, Sondra knew that she wanted to race herself.   She was dedicated to learning everything it took to be successful- from the upkeep and mechanical aspect, to the responsibilities of being a team owner and driver.
Breaking into the sport wasn't always the easiest for Sondra,  who despite years of experience at the races, still had to overcome some skeptics within the community.
It's very hard to get your start in this sport as a women because you are not taken very seriously at first. It's been a unique experience showing everyone I'm just as dedicated as the next person," she said of the early critics.
Her big break would come in 2009, when best friend and current crew chief, Ken Bjonnes handed over the keys to his supercharged 2005 Mustang GT and offered her a dream-opportunity: a chance to compete in the NMRA Super Stang class for the entire 2010 season.
Ken Bjonnes has been my teacher since day one. He knew I was a fast learner and with his years of experience behind this sport he was eager to teach me the ins and outs of drag racing," said Sondra of the valuable coaching he provided.
Sondra wouldn't let him down, indeed proving to be a fast study that would end her rookie season in the No. 5 position overall in the class.  She spent 2011 in the Super Stang class as well, finishing just outside the top ten.
Moving Up- Factory Stock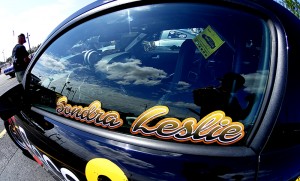 At the end of her sophomore season, Sondra had the urge to move away from the index racing format of Super Stang and into a heads-up category.  With so much family experience in the Factory Stock class, she felt it would be a fitting match.  Together with her team and family's input, the car was completely rebuilt for the 2012 season meeting the Factory Stock rule requirements.
Not all competitors were as supportive of her move into heads-up racing.   She was met with vocal critics that unfairly questioned her abilities, and as a result had to learn how best to manage these antagonists.
Several people would give me a hard time because I was a female entering 'their' class and would always try to discourage me and question my ability to race, say things like 'I will never be competitive – I should not even try and come run with them.'  It was difficult at first to handle but you develop some tough skin being in this industry and you learn to just keep at it and always strive to do your best to prove the non-believers you are just as capable as them."
She has been a staple of the class for the past four seasons, finishing in the top ten every year since her 2012 debut.    Her rookie Factory stock season, Sondra would finish No. 7 for the year, improving every year with a 6th place finish in 2013, and up to the No. 4 position at the end of 2014.  Much of this she attributes to her family.
So many times my family has stepped up to help me when I needed it the most. My parents for trailering my car to the events, my dad for cooking for us and making sure we ate throughout the day and making sure the car was always clean, my mom for video recording every pass I have ever made, my sister for filling in as crew chief when Ken was not able to make the event and always cheering me on, my brother for all his assistance and advise."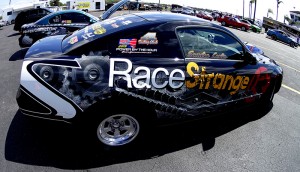 This season, Sondra and her team upgraded her Factory Stock Mustang with a MPR Racing Engines built Coyote powerplant and C4 transmission.   Crew chief Ken and Lund Racing provide all the tuning, and Power by the Hour helped to assemble the car for its season opening debut in Bradenton, Florida for the NMRA Spring Break Shootout.    Strange Engineering, her largest sponsor, has been on-board with the program for the past 5 years, and Pappa Shine provides all the cleaning and detailing supplies to ensure the car is always photo-ready.   She is currently in the No. 2 position for points in the 2015 season, with 2 events remaining.
Future Goals for Sondra Leslie
Sondra plans to continue working on improving her Factory Stock program, fine-tuning the combination and improving her race day results.  Her goal is to put the car into the winner's circle this season, and is constantly working on ways to improve as a driver.
Most challenging thing about racing for me: Not being so hard on myself. I am always looking for ways to become a better driver and even after having an awesome season opener weekend, there is always that 'if I didn't do this…'  or 'I could have done this better…' that plays over and over in my mind.   My ultimate goal in racing is to be as successful as my brother-in-law, John Urist, and my brother, John Leslie Jr.  I have some pretty big shoes to fill, but with their guidance I know I can achieve that goal."
One of the most important aspects she has learned being a female driver in the sport is to work with people you can trust and always staying humble.   There are always people out there who don't have the best intentions in mind, and this can put a racer in a compromising situation.
Work with people you trust. That's good advice for anyone, but being a woman in this sport opens you up to certain issues that I'm sure you can imagine."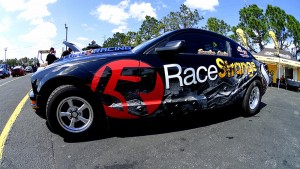 For Sondra, continuing the family tradition of drag racing has been a rewarding adventure she cherishes with her family.    Not only has she added another branch to the Leslie family racing tree, but she also gets the pleasure of teaching the next generation of racer the ropes, involving her two nieces as much as possible at the racetrack.
Many people dream of following a race circuit and competing in it, I actually live that dream and I'm very grateful for this opportunity."
We can't wait to see where Sondra Leslie will go in the future!