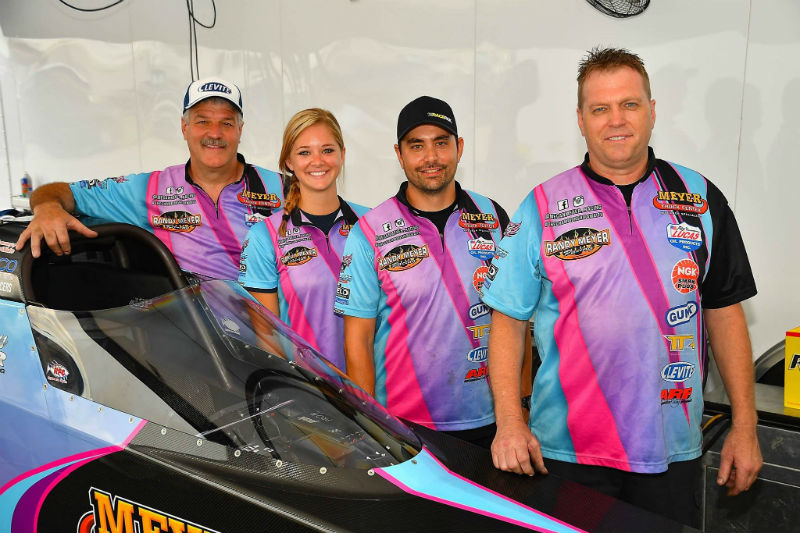 NHRA Top Alcohol Dragster driver, Megan Meyer qualifies second in Charlotte before making her exit in the semifinal round of the 8th Annual NHRA Four-Wide Nationals.
The defending event champion qualified second in the 15 car field with a 5.322 at 276.35 mph.
Eliminations
In round one of eliminations, Megan would take on Dan Lucas. She would leave first, but Lucas was quick on her heels and passed her by the 60′ mark. She was able to reel him back in by half track, edging him out at the finish line by 64 feet, a margin of victory of 0.2025 seconds. Meyer advances to round two with a 5.666 second performance at 264.23 mph.
This would match her with Jeff Veale in the second round, who would get a slight advantage at the light over Meyer before losing traction and striking the tires. But Megan would run her fastest pass of the weekend, with a 5.274 second, 275.39 mph pass and would advance to the semi finals.
Anticipation running high for the defending event champion, an uncharacteristic mistake costs her the win in round three against Shawn Cowie. Megan Meyer would leave too early, giving the red light win to Cowie, who would move on to be the event champion.
"Stress was high and we did our best to be defending 4widenats winners, but I just didn't do my job as a driver and disqualified myself in the semis. Red lights are never easy to get over and it's tough to run two cars without your crew chief there. My guys did the best they could in the very limited time they had and I had an amazing race car, I just had too much on my plate and wasn't focused on the track."