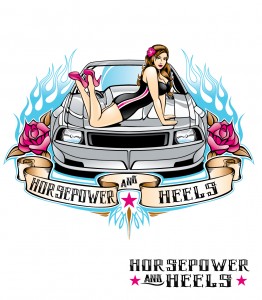 Check out the latest new pin-up style design in the Horsepower & Heels E-Store!
The newest apparel design was commissioned by Hot Rods by Kristina.   It features pin-up style art on the Horsepower & Heels Mustang.
Pre-orders are currently being taken as only a limited run will be available.   The shirts will be available in both Men's and Women's styled shirts as well as in black/white colors.
Reserve your shirt today!
To reserve your Horsepower & Heels pin-up style design shirt, simply visit the Horsepower & Heels Store and select your options.    The first run of the shirts will be $25 each, including shipping via USPS.    Presale orders estimated date of delivery will be in early November.
Funds will help Horsepower & Heels get the racecar finished and back to the track!