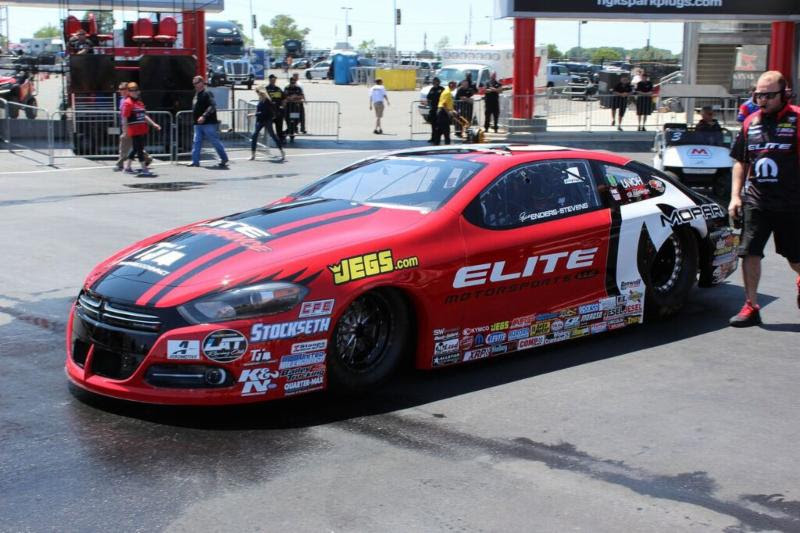 The results may not be obvious, but Pro Stock driver Erica Enders and her Elite Motorsports/Mopar Dodge team continue to make progress in the 2016 NHRA Mello Yello Drag Racing Series season.  A semi final 4-Wide finish for Enders at the 7th Annual NHRA 4-Wide Nationals presented by Lowes on Sunday moved her up the standings in championship points to the No. 7 position.
The two-time Pro Stock world champion switched manufacturers for 2016, and combined with some NHRA-mandated rules changes, the Elite team has been playing catch-up through five races.  Enders keeps battling and her team keeps improving.
We learned a lot this weekend," Enders said. "We completely used this race as a test session for us. I'm glad we were able to learn some stuff, and we certainly made a move in the right direction. The things we figured out this week we'll apply to Houston.  Our rigs were supposed to go directly to Houston, but they're going to go back to the shop and we're going to work on our race cars and try to do our best to win in our hometown next week."
Enders has won the last two races at Royal Purple Raceway, site of the Pro Stock race next weekend.   She heads there with some momentum. Enders finished second in her quad in the first round, making a pass of 6.630 seconds at 209.88 mph and trailing only teammate Drew Skillman.
First round was a much better run for us," Enders said. "But by no means was it a great run. That was encouraging."
 Enders then drilled her three competitors on the Christmas Tree in the semifinals with a .024-second reaction time. Had she matched her first-round elapsed time, Enders would have made it to the final, but the Dodge Dart shook the tires and she had to lift.
With her first-round light of .027, Enders remains one of the top drivers in the class at the starting line.
To me, that part's easy," Enders said. "That's my job, to be focused. I really pride myself on my driving techniques. I try to perform as perfectly as possible every time. There are a lot of extra distractions here at this event, and I feel like we're the best in the world. We proved it two years in a row, and we're just going to keep getting better."