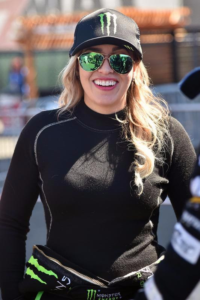 Another semifinal finish for NHRA Top Fuel racer Brittany Force in Sonoma. The Monster Energy sponsored racer scored her fifth semifinal in the last seven NHRA Mello Yello Drag Racing Series races, moving her inside the top five of the Top Fuel points standings following Sunday's NHRA Sonoma Nationals at Sonoma Raceway.
Brittany Force began the event with No. 2 qualifying attempt on Friday, followed by a tough qualifying effort Saturday, in which she failed to make a full pass. The second of three Western Swing events, Sonoma is one of Force's favorite tracks.
During Sunday's eliminations, Force outran No. 15 qualified Steven Chrisman in the opening round, charging down the track at a session-best 3.705 seconds, and posting a track record 331.61 mph speed to set up a quarterfinals matchup against No. 7 Shawn Langdon.
In round two, both Force and Langdon ran into trouble, but Brittany Force was able to salvage the run, and pedal the car across the finish line in 4.071 seconds at 264.75 mph with Langdon trailing close behind.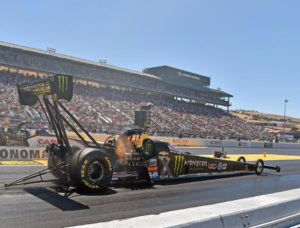 That put her up against No. 6, the current NHRA Top Fuel points leader, Steve Torrence. Torrence and crew had a stellar and consistent race day performance, running 3.753 seconds at 329.02 mph in the semifinal to defeat Brittany Force's 3.882 seconds at 315.27 mph run. Force had fuel spilling out the left side of her car during the pass. Torrence advanced and scored the event win for the NHRA Sonoma Nationals.
The semifinal finish for Brittany Force in Sonoma allowed her Monster Energy team to jump ahead of Doug Kalitta in the NHRA Top Fuel points standings, moving to the No. 5 position. She also claimed the track speed record during her first round pass, a record held previously by Kalitta.
"To have a day like that and then have low ET of the session … I thought we were going to carry it all through the day," Force said. "But we made a semifinal appearance, which is what we did last weekend too. So that's pretty good, but the plan for next week in Seattle is to take it off the trailer and end up in the winner's circle."
Brittany and the Monster Energy team will head to the third stop on the Western Swing, the NHRA Northwest Nationals on August 4-6 at Pacific Raceway outside Seattle, WA. The event is the 16th of the NHRA Mello Yello Drag Racing Series season.