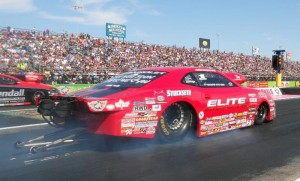 Erica Enders
shattered yet another record on 
Sunday
, taking the victory at the
AAA Texas NHRA Fall Nationals
in Dallas, TX.    She bested Angelle Sampey's 2001 7-race record of the most wins for a female in one season, beating her nearest two rivals in the Mello Yello points to power to a massive 154-point advantage with just two races left. The eighth historic win for Enders marked an NHRA-leading feat for the season, and first victory of her career in Dallas.
"I am so glad we were able to get this eighth win here in my home state," said Enders, who grew up in the Houston suburbs. "You know, I have been talking about a cowboy hat for months, just waiting to come here and win a cowboy hat, so I'm excited to be able to get that done in front of all of our friends and family. It's just a huge blessing."
 A cowboy hat is the traditional winner's gift at the Texas Motorplex, a complex owned by former Funny Car driver Billy Meyer. This year, the winner's also got a belt buckle to commemorate the 30th anniversary of the event.
The stage was set early for a decisive race, as the top three contenders in the Pro Stock championship chase were paired early, ensuring a shake up in the standings.   Though Enders carried a good cushion into round one, a win here would really help distance her from the competition.   After qualifying 4th with a 6.480, Erica would face Vieri Gaines in Round 1, taking the win with a career-best 6.467 second E.T. at 214.25 mph.  This feat tied as the 8th fastest pass in the history of Pro Stock.
This set up a big match up with bitter rival Chris McGaha, who is third in the points. McGaha had defeated second-ranked Greg Anderson in his opening race.  Behind the scenes, this match-up was steeped in conflict and, for both teams, was personal.
"Those first two rounds were very significant," Enders said. "First round, we watched (McGaha) beat Greg right in front of us and then we crushed his ET by .400s to earn lane choice in our race against him. We didn't want to give him anything.  There is a lot of stuff that goes on behind the scenes that people don't know about and (McGaha's) team has been running their mouths. I said from the beginning we'll let the scoreboard do the talking."
Enders was 12-2 in career meetings against McGaha entering the second round.   With both teams on edge, the two began their burnouts and staging.   McGaha entered the beams first, bypassing common  courtesy staging and "double bulbing" Enders.   But it didn't seem to rattle the reigning Pro Stock World Champion, who cut an impressive 0.008 reaction at the tree, en route to a new career-quickest E.T of 6.467 seconds at 214.25 mph.
"There's no need to argue with ignorant people, so when I went up there and he double-bulbed me, I said 'bring it on, I don't care,' and I was able to drill him with a .008-second reaction time and then totally out-run him. I think we sent a big message. I definitely wanted to beat him, and my guys wanted to beat him even more so that was a nice deal for us."
 From there, Enders went on to take the wins against Drew Skillman and Jonathon Gray for the historic victory and the big edge in the NHRA Pro Stock points standings.
"We just have such great team chemistry and great horsepower so I'm a happy girl," Enders said. "(ESPN top-end reporter) Gary Gerould said in our interview, that we have an eight-round lead with only eight rounds of racing left, and that's really cool, but I don't care. I want all the points that we can get.  We go into every race wanting to win more than anything in the world and we do our best to step up to the plate. You know, I talk about my guys all of the time but I'll put my money on them every single

Sunday

, every single round of qualifying, because they are the best. They bring it and I bring it and together I think the sky is the limit for us."