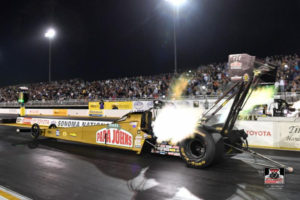 NHRA Top Fuel top qualifier Leah Pritchett exits Sonoma in round two this weekend at the NHRA Sonoma Nationals. The Papa John's Pizza Top Fuel team started the weekend off strong with a track record performing qualifying effort, but those results didn't translate into Sunday win lights during eliminations.
In the opening round of eliminations, the top qualifier took on Terry Haddock, taking the win with a 3.749 second, 326.95 mph performance against Haddock's 3.910 at 303.91mph. But her luck would not hold out, as Leah Pritchett exits Sonoma in round two when a mechanical issue slowed her to a 3.897-second run at 214.09 mph in an upset by Terry McMillen. A clutch lever malfunction on her Pap John's dragster led to her engine losing a cylinder.
"Terry McMillen beat us to the finish line. Broken parts can break hearts but it can't break our spirit when we go to Seattle," Pritchett said of next weekend's finale to the three-week Western Swing. "You go into every race day with a good, confident feeling. I feel like this Sunday we had the most confidence because everything was jelling. The people, everyone's so on top of their game, the track record, low three out of four qualifiers."
Pritchett and the Powered by Pennzoil team were quickest in the first three qualifying sessions of the weekend, landing the No. 1 qualifying pole. Her 3.669 second performance at 304.80 mph reset the track elapsed time record, a feat they have now accomplished five times. They also scored the top qualifying honors at the previous event in Denver, scoring a runner-up finish for the event, and were confident entering eliminations.
"I have said this morning if someone asked, 'what's it going to take to win this race?' I would have answered 'no mistakes.' We were proven wrong. We didn't make any mistakes and still lost."
Leah Prichett and the Papa John's Dragster now sit No. 3 in NHRA championship points entering the final race of the 3-event Western Swing.