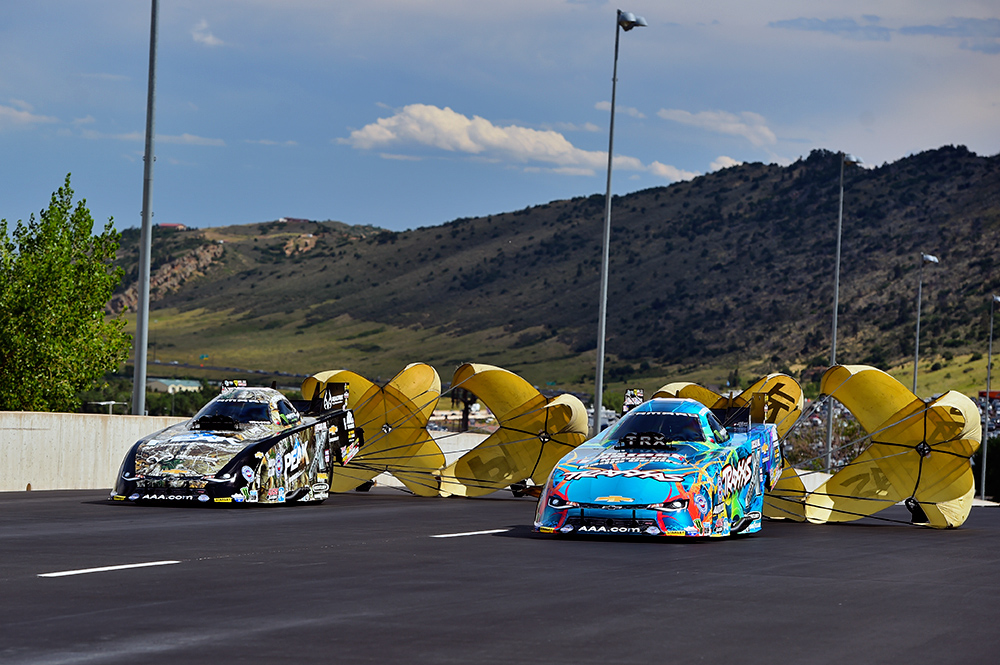 NHRA Funny Car driver Courtney Force finishes second in Denver at the 37th Annual NHRA Mopar Mile High Nationals.   Force qualified No. 1 for the event, and advanced to her 16th career final round, before falling to her father, John Force in a close race.   She leaves the event in the No. 2 position in NHRA Mello Yello Funny Car point standings.
Bandimere Dragway proved to be a successful event for Courtney Force and her Traxxas Funny Car team.  The 28 year-old picked up eight key bonus points throughout qualifying, grabbing the No. 1 qualified position with a 3.917 second ET at 318.39 mph.   The pole was her tenth career No. 1 start, and Courtney has converted those No. 1 qualified positions into wins in four of those attempts.
"We had a great weekend out here starting off the Western Swing at the Mile High NHRA Nationals in Denver. This is one of the most challenging race tracks and I'm so proud of my team because I definitely think that we turned things around in a huge way coming to this track. We did quite a bit better than we have in the past and it definitely goes to show the type of team that I have working on my car. My crew chiefs, Danny Hood and Ronnie Thompson, they've given me a consistent race car round by round," said Force.
In the opening round of eliminations, the youngest racer in the John Force Racing stable was paired up with Jim Campbell, the first time the two racers had met in competition.  Force easily dismissed Campbell, running a 3.972 second, 315.42 mph pass that was good for low of the round and lane choice as she advanced to the quarterfinals.
Her round 2 match-up with Tommy Johnson Jr. marked their fourth meeting this season.   Both drivers left with nearly identical reaction times, but Force was able to pull away with an early lead.   The Traxxas Chevrolet Camaro SS Funny Car raced straight down the groove to get the second round win with a 4.016 at 315.56 mph to Johnson Jr.'s 4.032 ET at 315.71 mph. It was an extremely close race with a margin of victory at .0154 seconds, approximately seven feet. Force is now 7-4 against Johnson Jr. in eliminations.
Unfortunately, she lost out on lane choice for the third round of eliminations against teammate and JFR President, Robert Hight.   The teammates have met four times this season, with Courtney showing a match-up record of 7-10 against Hight.  But a stellar performance by Force leading with an .052 second reaction time and race day low ET of 3.937 seconds at 322.04 mph took the immediate win after Hight red-lighted and fouled out on the starting line.    She would take lane choice into the finals against her father, 16-time champion John Force.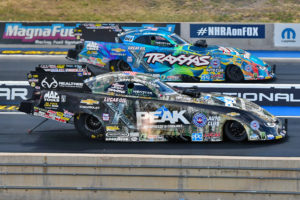 The final round would prove to be a close one.   John would take a slight advantage at the starting line, which would prove to be all that he needed by the finish.   He would take the hole shot win, running 3.965 seconds at 319.45 mph to Courtney's quicker, but losing 3.963 at 314.75 mph.
"I'm proud of my dad for getting that win. We were right there. He was right out my window the whole way down. I actually thought we had him. We had a little bit of trouble with the belt on the car. It kind of shredded up right at the finish line and he went by me for the win. He's done a great job all weekend in his Realtree PEAK Camaro and he definitely snuck up on me with that camo, so great job to him and his team, but our Traxxas team is going to be ready for Sonoma," said Force.
Courtney Force finishes second in Denver, not only for the event, but also  in NHRA Mello Yello championship points.   The team heads to the next stop of the western swing, the NHRA Toyota Sonoma Nationals, in Sonoma, CA on July 29-31.
"I'm so proud of my guys. We moved up to second in the points in this Traxxas Chevy Camaro. We were one of the fastest on the mountain for the Fastest Name in Radio Control cars. I'm really proud of all they did this weekend. I'm bummed we weren't able to go home with the win against my dad in the final round, but excited that it was on the FOX network. I think that's huge for our sport."