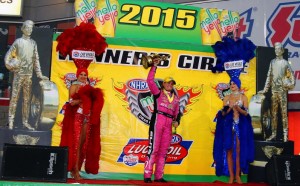 She's had storybook season in 2015, and it seems her fairy tale just continues to re-write itself to an even happier ending.  
NHRA Pro Stock racer
Erica Enders
entered Vegas with a sizable points lead,
broke several track records
 while qualifying No. 1 for the event, clinched the 2015 Championship, and extended her 4 race Vegas streak with a perfect-reaction victory in the finals.   It seems as though Erica Enders truly is the "Girl on Fire" in Pro Stock.
Enders clinches the 2015 Championship
All the mathematicians were watching the points tally for the NHRA Toyota Nationals closely, with calculations flying on when Enders would be able to snag that back-to-back championship title in Pro Stock.  They knew she needed to leave the event with a 154 point lead to be out of reach from any of her competitors, but that metric could change by how closest competitors Greg Anderson, Chris McGaha, and Drew Skillman fared in relation to her own progress through the elimination rounds.
"We came into the weekend and everyone was talking about the championship — what we have to do, crunching points and all that. My crew chiefs (Rick and Rickie Jones, Mark Ingersoll, and Brian Self) and I decided we weren't going to talk about that and just take things one round at a time. Our goal was to make it 22 (in a row). It's an incredible thing to accomplish. The streak we have here is incredible. I'm excited to be part of such a great group like Elite Motorsports."
 In the second round of eliminations, Greg Anderson was eliminated by Elite teammate, Vincent Nobile.   McGaha also fell to Butner, and that left just one more key round win for Erica to seal up the points tally in her favor.
"After watching my teammate Vincent beat Greg second round, I got excited, of course, because I knew what could happen," Enders said. "Then I thought, 'We have to win this round.' I fire the car, pull into the waterbox, and all my guys are jumping around, clapping, and I'm just trying to get my composure and get my heart rate down."
She proceeded to knock out Shane Gray with a round-low pass of 6.596 seconds at 209.39 mph, and finally locked it up.   Erica Enders clinches 2015 Pro Stock Championship, her second consecutive championship in the class, one race before the close of the season.     She became the 33rd driver in NHRA history to win multiple championships and the ninth in the Pro Stock class. She's also the first back-to-back champion in NHRA since 2011-12, when Eddie Krawiec won the Pro Stock Motorcycle title, a sight not seen in Pro Stock since Jeg Coughlin Jr. accomplished the feat in 2007-08.
A perfect victory to extend Vegas streak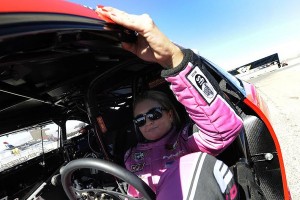 With the championship sealed up, Enders knew her day was far from over, as she set out to defend her winning streak at the Vegas facility.    She defeated Skillman in the semifinals when he left .004-second too soon, setting up a final-round match with Butner.     To the disbelief of all who watched, she proceeded to cut a perfect 0.000 reaction enroute to her 6.595 second at 208.97 mph victory over Butner, with a 6.610 second at 209.33 mph effort.
"I knew it was going to be a tough race against a drive like Bo, who I know is hungry for his first win," Enders said. "To be able to cap the second championship off with another win in Vegas is just crazy.   It's just an incredible day,  I'm kind of speechless. Vegas has always been really good to me, and it's nice to keep our streak going with now 22 consecutive round-wins. It's mind-boggling."
 Enders has won the last four national events and the last two K&N Horsepower Challenge races in Las Vegas, running her consecutive round-win streak at 'The Strip' to 22.   The victory marked the ninth win of the season and 21st of her career.   Enders has hit her stride, taking the victory in 15 of the last 45 races she's entered with the Richard Freeman-owned Elite team.
"Finally I feel like I'm home with this group of guys," Enders said. "I couldn't have dreamed up a better crew. We truly get along, we have such great chemistry, and most importantly we have fun together. That's why we're so successful on the racetrack. Horsepower doesn't hurt, but we don't have the biggest budget. We get it done because of the people. It's been a long road, but I'm glad to be where I'm at. I wouldn't trade it for anything in the world."
Though the championship is hers, Enders and the Elite team don't intend on resting, and hope to defend their 2014 win at the Finals in Pomona.
Watch video as Erica Enders clinches the 2015 Pro Stock Championship