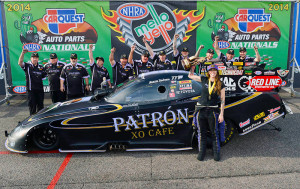 NHRA Funny Car driver Alexis DeJoria will be breaking into the triple digits this weekend at the 56th annual Circle K NHRA WinterNationals in Pomona, California.    The event will mark her 100th race in NHRA professional Funny Car competition, the most events in the class for a female driver.
Along the road to 100, DeJoria has picked up three national event wins to her credit, including the prestigious 60th annual U.S. National in Indianapolis, IN.    She became the first female to break the three-second Funny Car barrier, and earned three No. 1 qualifiers in the class, finishing in the Top Ten in Funny Car championship series points for the past two seasons.
The season opener in Pomona will begin her fifth season at the controls of the Tequila Patrón Toyota Camry Funny Car.  Previous to her professional debut in the Funny Car class, Alexis DeJoria spent nearly six years behind the wheel of a Top Alcohol Funny Car (TAFC), even owning her own team at one point.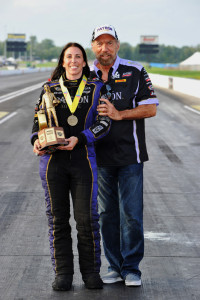 As she gears up for this weekend's 2016 NHRA season-opener, DeJoria reflects on her journey to this milestone.   She joins Shirley Muldowney, Erica Enders, Angelle Sampey among other women in NHRA's '100 race club'.
When I found out that Pomona would be my 100th race, it kind of took me back. I just can't believe I've already competed 99 times in a Funny Car. It went by pretty fast," said DeJoria.  "I've learned so much over these first 99 races and I think it really does take about 100 races before you feel settled in that race car. When there are things that come up- and there always will be- I feel much more acclimated to my race car, to my team, and to my series. It's been a short but long journey, and I'm really proud to be in this position and say that after this weekend, I've been able to compete in 100 NHRA Funny Car events."
Alexis DeJoria's history making weekend kicks off on Friday, February 12th as she and the Kalitta Motorsports Tequila Patrón Toyota Camry Funny Car team begin qualifying for the 56th annual Circle K NHRA Winternationals in Pomona, California.