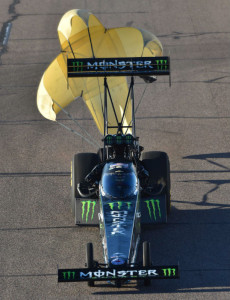 The ladies looked strong in NHRA Nitro Spring Training, a successful four days of NHRA pre-season testing at Wild Horse Pass Motorsports Park.
Brittany Force and the Monster Energy Top Fuel dragster team led all Top Fuel dragsters on Saturday's final day of Nitro Spring Training, with a 3.721 second pass at 319.07 mph.   Force posted the 5th and 6th quickest runs of the four day test session overall.
I am definitely glad we are here in Phoenix testing. We were here for four days and I needed every single run that we made to make me feel more comfortable. Teaming up with Alan Johnson and Brian Husen as my crew chief has been great," said Force. "They have made a lot of changes to this Monster Energy dragster. They run a whole different system that what we used to run. It takes some time to adjust to that and I am learning the car. It is starting to feel like home. We ran a couple of 3.72s and I am ready to get to Pomona."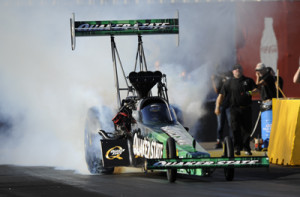 Leah Prichett and her new team at Bob Vandergriff Racing worked on getting comfortable together.  The team ran well, and Leah felt comfortable in the seat with new crew chiefs Mike Guger and Joe Barlam at the helm.
It's going OK.  It was running low-.70 numbers on the early-shutoff runs we made this week. I'm extremely comfortable in the car. It drives smooth. Mike and Joe are phenomenal to work with. We have high expectations that we've placed on ourselves. We have something to prove this year," said Pritchett (via NHRA.com).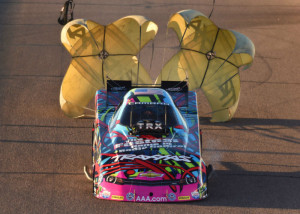 Courtney Force driving the Traxxas Chevrolet Camaro SS Funny Car ran her career best ET 3.890 at 323.89 mph. The first two days of testing were uneventful for Force who struggled to get her Funny Car down the track. The team began to hit their stride on Friday.
We struggled a little the first couple of passes but then we got it figured out. That is why you go to testing. I am really excited to be working with Ronnie Thompson and Danny Hood as my crew chiefs. This whole Traxxas Chevrolet Funny Car team did a great job here in Phoenix. We made my quickest run ever and I feel really comfortable heading to Pomona," said Courtney Force.
Saturday

 NHRA Nitro Spring Training Leaderboard

TOP FUEL
 Brittany Force– 3.721, 319.07
Clay Millican – 3.739, 288.87
Doug Kalitta – 3.745, 325.53
Brittany Force – 3.747, 322.81 
Richie Crampton – 3.748, 319.22
Brittany Force – 3.758, 317.64
Antron Brown – 3.768, 297.88
Shawn Langdon – 3.770, 316.08
Antron Brown – 3.791, 320.13
J.R. Todd – 3.802, 325.69
Leah Pritchett – 3.839, 272.72
J.R. Todd – 3.882, 251.67
Terry McMillen – 3.916, 256.75
Troy Buff – 3.929, 255.00
Terry McMillen – 3.935, 306.05
Troy Buff – 4.123, 242.19
FUNNY CAR
Tommy Johnson Jr. – 3.874, 318.47

Robert Hight

 – 3.885, 329.34
Courtney Force – 3.890, 323.89
John Force – 3.914, 327.35
Courtney Force – 3.915, 323.74
Ron Capps – 3.919, 320.66
John Force – 3.927, 323.66
John Force – 3.930, 328.14
Robert Hight – 3.931, 323.43
Matt Hagan – 3.962, 326.79
Alexis DeJoria – 3.972, 320.51
Jack Beckman – 3.982, 289.57
Del Worsham – 3.983, 320.81
Ron Capps – 3.987, 319.29
Alexis DeJoria – 3.993, 322.58
Del Worsham – 3.999, 320.97
Cruz Pedregon – 4.008, 273.94
Brian Hough – 4.015, 316.01
Del Worsham – 4.070, 273.39
Jim Campbell – 4.153, 252.24
Matt Hagan – 4.211, 225.60
Top 10 overall | Nitro Spring Training
TOP FUEL
Tony Schumacher – 3.683, 325.37
Dave Connolly – 3.714, 330.15
Doug Kalitta – 3.716, 327.35
Tony Schumacher – 3.718, 320.58
Brittany Force – 3.721, 319.07 
Brittany Force  – 3.721, 318.54
Doug Kalitta  – 3.727, 322.88
Steve Torrence – 3.729, 326.08
Steve Torrence – 3.731, 326.48
Shawn Langdon – 3.733, 315.49
FUNNY CAR
Tommy Johnson Jr. – 3.874, 318.47
Jack Beckman– 3.880, 325.77
Robert Hight – 3.885, 329.34
Courtney Force – 3.890, 323.89
Jack Beckman – 3.894, 327.03
Jack Beckman – 3.895, 325.06
Courtney Force – 3.904, 318.54
John Force – 3.912, 324.20
Robert Hight – 3.913, 326.16
John Force – 3.914, 327.35