In addition to the crew chiefs and drivers, one of the other groups of greatly talented professionals you get to meet at the racetrack every weekend are the guys and gals that are risking their butts hanging on the guardwalls to give us great images of the action. Though I know absolutely NOTHING about photography aside from point-and-click, I've always had great respect for these guys and gals, and always truly admire their work.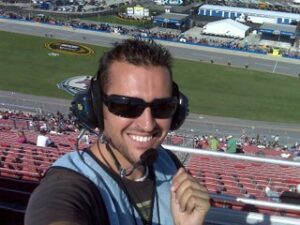 Last week, I had the pleasure of meeting my absolute favorite Professional Sports Photographer, Mark Rebilas. I've been a fan of his and have been following his work for quite awhile now, but I didn't realize how cool a guy he actually is until recently.
Mark hails from Phoenix, AZ; the son of photographer Gil Rebilas, who first put a camera in his son's hands at age 10. Mark quickly learned the trade, enlisting as a Photographer for the US Navy, and leading a team of 22 photographers on an aircraft carrier during a wartime deployment across the world.
Now, you can find him high above the tri-oval at NASCAR races, capturing some of the crazy crashes, or on the sidelines at baseball games and a wide variety of other sports. A very recognized name in the business, Mark's won the
NMPA Motorsports Photographer of the Year
award twice, and has been featured all over the industry in ESPN, Sports Illustrated, and many other publications. Mark has also
covered a few drag racing events
, and his images are absolutely stunning. His photo blog is really impressive, and tells a great story about the events he covers. Though he told me he originally started the blog for other photographers, any sports fan can really appreciate his detailed blogging style and the great story his images tell.
Someof my favorites are the unique portraits he's done with my favorite NHRA drivers. His approach is drastically different from our regular drag racing photographers, and from what he outlines in his blogs, his techniques are much more complicated and a lot harder work. But the results are amazing: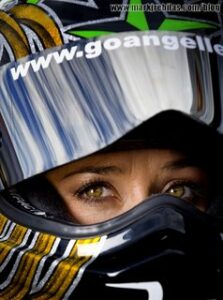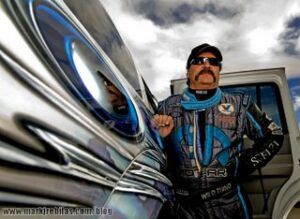 The action shots are unlike anything I've ever seen. With drag racing being the fastest moving of all the motorsports, I imagine its quite difficult to catch all the action coming at you at 300mph. But these are just the most vivid and spectacular I've ever seen…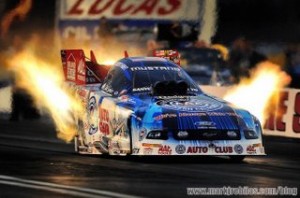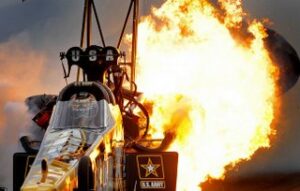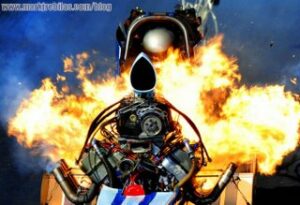 Clearly, I don't have to do much talking. His work speaks rather breathlessly for itself. I couldn't possibly post all of my favorites, so you really need to head on over to his blog to check them all out.
Other than the fact he drives a Corvette (::groan::), Mark is one of the coolest people I've had a chance to hang out with in some time! I've already made him promise that if I strike the lotto and go Top Fuel racing, he's going to be the official Photographer with sole mission to make me look like a resident bad ass! Thanks, Mark!
Check out Mark's Blog: www.markjrebilas.com/blog
Or better yet, subscribe to it free here.