The past month or so has been such an incredibly hectic time for me. I feel like I've been on the go for weeks. Between Roller Derby and trying to attend a few races here and there, I haven't had much time to recharge.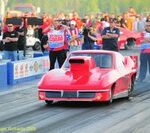 I started out by attending the ADRL race in Valdosta. I forgot how badly I missed these events. Its so much different than attending the "all business" national events. While the ADRL is a huge show, and just as professional, it still retains the level of fun and comraderie that isn't as apparent in national events. I got to chat with a lot of the guys I've been racing with for years, and even rounded up a few more parts to finish my car. I spent the weekend hanging out with Dan Parker/Bill George's team. They made the show, but had to take on the #1 qualifier, and shook just a bit at the top of low for a close race at the finish. [photo Competition Plus, Roger Richards]
Next up, I headed out to Vegas for a work-related tradeshow. I handle marketing for a broadcast equipment manufacturing company, and the NAB Show is our largest tradeshow of the year. Its always a very long week, with 2 after-show events that I manage for our dealers/customers. I did get a few hours out by the hotel pool at the Sahara, as well as skating with the Sin City Roller Girls at one of their practices, dinner at Tao and dancing at Pure Nightclub in Ceasar's Palace one of the nights as well.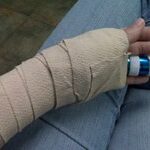 From Vegas, I hopped a plane over to Columbus, OH where I was playing my very first Roller Derby Bout against the Ohio Roller Girls. We lost, I broke my finger, dislocated a knuckle and pulled a tendon in my hand, and I was way tired, but it was still a good experience. My friend Chuck came out along with my cousin Ana and her boys, so it was great seeing family and friends as well.
Then, on top of all of the craziness, I had 2 days once I got home to move to a new house my roommate and I were renting. With a broken finger. NOT fun. One of my coworkers and his wife helped me move most of it Monday night. I had to be out by Wednesday, and after a trip to Atlanta on Tuesday night/Wednesday morning to pick up my badly missed little Chihuahua, handle some work, and meet a special new friend (more on that next blog), it has been an exhausting month.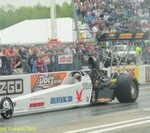 Which brings me to this weekend: the St. Louis NHRA race. I went to this race last year, and was planning to go this year as well. The Stevens Family Top Fuel Dragster, which some may remember is the team I have been working with to get a top fuel ride once we find funding to license and run, had a one-race deal for St. Louis, and I had planned to go there and shoot some video of the team and me with the dragster to put together a promo reel for the sponsor chase. However, Friday afternoon when I was getting ready to pack up and leave, the weather sirens started going off, making the drive not look like such a great idea. That fact, combined with the radar outlook for Saturday showing rain all day long, made me decide to stay home after lots of back-and-forth. A decision I instantly regretted the next morning when Dave Stevens called me saying it was clear blue skies and sunny there. DOH! [photo Competition Plus, Roger Richards]So the team ended up qualifying and getting into the show. They went out first round to Morgan Lucas. Of course, I missed all the action. I'm super sad. 🙁 So much for luck… I gambled and lost in Vegas, Ohio, and St. Louis! DARN!