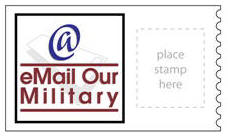 I recently had the pleasure of learning about a very special program called eMail Our Military through their update tweets on the insta-news social network, Twitter.
eMail Our Military (eMOM) was created as a response to the DoD's cancellation of the "Any Service Member" and "Operation Dear Abby" mail programs in 2001, with the mission to provide encouragement, motivation and morale support to the men and women serving in our military by sending eMail, correspondence and care packages. Website visitors can join, participation is free, and take part in a number of support projects ranging from sending eMail on a one-on-one basis with a service member to year round support projects.
In memory of my Papi, who was retired from the Air Force, I decided to try and help out by sending some goodies to be included in the packages. Just simple Horsepower & Heels "stuff" I was told, would go a long way to someone on duty overseas. I then spoke to eMOM crusader @Dayngr on twitter, and we've decided to partner up and really get some love sent to our heros.
Right now, they are in full swing of their "Holiday Love" campaign, giving service members special Holiday packages and cards while they are serving abroad and away from their families. They are also collecting from "Postage Patriots" to cover the cost of mailing the packages to our military members.
Share a little Holiday Love today!
Listen to:
eMOMpromo2007.mp3