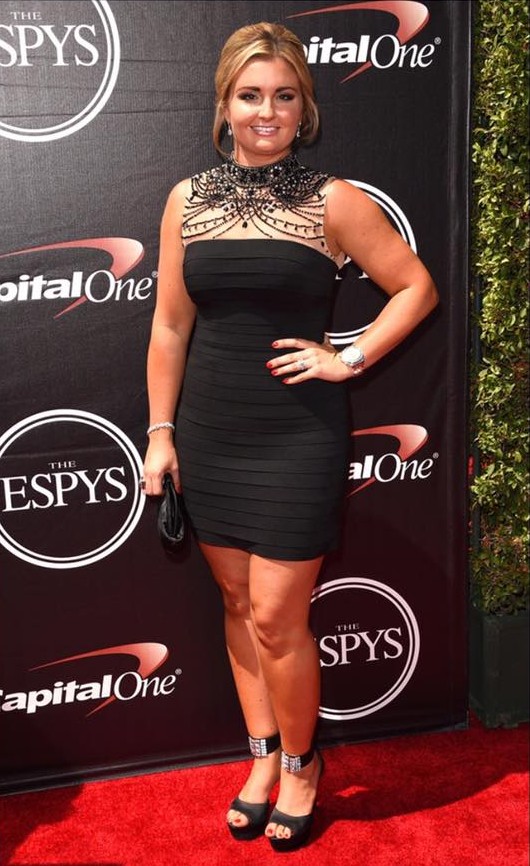 Check out NHRA Pro Stock driver Erica Enders on the red carpet at the ESPY award show.  The NHRA Pro Stock driver traded her firesuit for a beautiful little black dress, representing the drag racing world on The ESPYS award red carpet.
Nominated for Best Driver ESPY
Erica was one of the 5 nominees for the Best Driver ESPY award, and the lone female driver and drag racer in the group.   Juan Pablo Montoya and Will Power from IndyCar, Lewis Hamilton from Formula One, and Kevin Harvick from NASCAR were the other honorees in the category.
Enders, who was nominated after her historical 2014 season in which she became the first woman to win an NHRA Pro Stock Championship, in thrilling and suspenseful fashion.   She took the 2014 Pro Stock Championship title on the very last run of the last race, coming from behind in the points standings and winning the last two races of the season.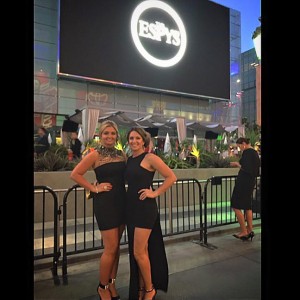 The NHRA star attended the event with her husband and fellow Pro Stock racer Richie Stevens, sister Courtney Enders and her father, Greg.   Parts of the prestigious ceremony, including the much-anticipated acceptance of the Arthur Ashe award by Caitlyn Jenner, were aired live on ABC.
Voting a Winner
The award allowed fans to vote for their favorites in each of the categories online from the announcement of the nominees all the way up until the day of the live show.   In the end, NASCAR star Kevin Harvick took the top honors for his first career NASCAR Sprint Cup Championship in 2014.
Harvick, meanwhile, was not in attendance.   He posted on Twitter that he had forgotten about the award show.
Forgot the @ESPYS were on last night but apparently we won! Thanks for all of the support! #coolaward

— Kevin Harvick (@KevinHarvick) July 16, 2015