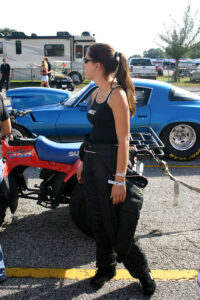 As is the case in the drag racing world, you always have to stay prepared.
Have helmet, will travel.
I received a phone call of a possible driving opportunity that may be coming in the near future, but since it's been a few years, my NHRA Advanced ET Competition license has expired and I will need to complete the licensing procedure all over again.
That means I need to find a car capable of running 7.50 or faster, and complete my 6 runs (one half pass, 3 moderate runs, and 2 full passes faster that 7.49).
That wouldn't be a big deal normally, except that my own car isn't running at the moment, and I can't afford a trip to a place like Frank Hawley's just to get the license again.
So, I've put out a call to all my racing friends to see if someone would be willing to let me make a few passes to get my license again.  I can't offer any cash right now to "rent" their car, but I can provide great crew slave labor and awesome PR help for their team!
So far a few people are checking for me, fingers crossed I find someone so I can get this key roadblock out of the way.  If you know of anyone or have a car you'd let me shoe, please send me a message!