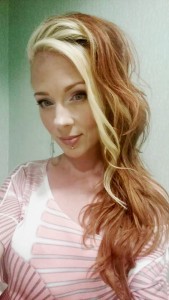 We all want to look our best at the track, but motorsport conditions can sometimes be challenging.   Celebrity hair and makeup artist Wendy Ryan Shelton offers tips and her personal favorites to beat the heat and stay looking your best at the track.  
Track Skin Care
So everybody knows that being in the sun all day can take a serious toll on not only your makeup, but most importantly on skin!  
First off, beautiful makeup starts with beautiful skin, period! I can't begin to tell you the importance of the right skin care regimen to protect your skin from harmful UVA/UVB rays, free radicals (pollution) and even just a dry climate can cause serious damage to the skin causing skin cancer, premature aging to your skin, congested pores, unwanted sun spots… the list goes on.
Using a "good" moisturizer (not from the grocery store) with SPF is a must, as we all know. But you may also add a couple of key and inexpensive products to your regime that will make all the difference in your skin and your makeup, especially in the summer.
(Site note:  This post contains affiliate links, which means that if you click on one of the product links, we receive a small commission when you buy.  All opinions are the author's own.)
ALL of these products will make a massive improvement on how your makeup looks, feels and wears throughout the entire year. Makeup will only enhance dry skin, fine lines and will look ridiculous if you have oil pouring out of your pores!
Stay-put Makeup for Women in Motorsports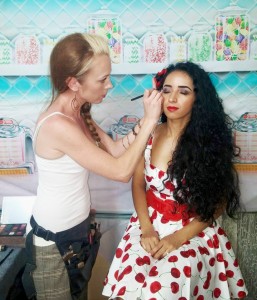 The biggest complaint for makeup lovers during the summer is their face gets oily, sweaty making their makeup look splotchy or just comes off 2 hours after putting it on.  There are solutions.
Always make sure you allow your skin care to absorb into the skin for 5-10 minutes before applying makeup. If you don't wait, it will make your makeup smear all over your face. More people do this than you'd think.
 Trade your thicker foundation for a tinted moisturizer or BB cream.   They melt into the skin, are very lightweight and won't rub off throughout the day. Boscia BB Cream, Nars Tinted Moisturizer or Smashbox are a few of my favorite. Go to Sephora, tell them your skin type and they will match your color as well as suggest one to help with skin conditions.
Always, I mean

ALWAYS

use a primer!  Not only are you creating a barrier between your skin and your makeup, but it helps the foundation 'stick' to your skin so that it wont fade in certain areas of the face like your nose, forehead and cheeks. This step combined with proper skincare will also prevent foundations from oxidizing on the skin, making your foundation turn another color. During the summer heat, this is a big problem.
Don't forget your eyeshadow primer. It will keep eyeshadow from gathering in your crease, you'll get the most color pay-out from your shadow, blends easier and your shadow will look as flawless at the end of the day as it did when you applied it in the morning. This is a must!
For full coverage in the summer:   If you are like me and still want to use a thicker fuller coverage, even in the summer, go with Kat Von D Tattoo Foundation. Very full, flawless coverage and has a matte finish. It is water-resistant and long-wearing, even in the summer! There are amazing reviews and a couple negative on this product. The biggest complaint is that it dries before being able to blend it properly or that its too heavy. If these are the cases, its not being applied right. The end. It needs to be applied on top of a primer, quickly with brush or Beauty Blender. Clinique Double Wear is also an amazing full coverage that wont break up on your face in the heat and same rules apply!
Always set your foundations with a powder.  I prefer a translucent HD powder that is weightless and great for taking pictures!
Set your look with setting spray.   Set your finished look with a mattifying setting spray during the summer, unless you have very dry skin. In that case, you would use a normal/dewy finish setting spray. Setting sprays help with making all your makeup melt to the skin, keeping it in place. A great mattifying setting spray is Urban Decay De-Slick Setting Spray or mattifying setting spray by NYX.
Keep blotting paper handy to wipe away sweat.    Use Blotting papers (by numerous brands) to blot any unwanted sweat or oil without taking off your makeup.
 All these tips will help you get through your summer with flawless skin and makeup, keeping you looking your best at the track. I hope you have enjoyed reading my tips as I have enjoyed sharing my experience and knowledge with you!
What are your favorite tips for a fabulously fast look?  Leave a comment below!