Piensa Mas Alla….Think Beyond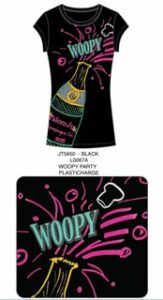 Recently, I was asked by the Palomita & Chucho Clothing Co. to design a special edition t-shirt to be auctioned off at an event in June benefitting education. Palomita and Chucho are fresh, fun brands that capture the nostalgia of Latin America, the bubbly soda us latinos drank with our school lunches, that salty candy that made our fingers all sticky, or that loveable mouse we watched on television before we were tucked into bed.
The t-shirt design was sent to me blank, with just the word "WOOPY" on the front of the shirt. Woopy is a fruit juice drink with a fun and playful attitude. This drink was launched in the 70's and was the drink for the new generation. I wasn't really sure what to draw for WOOPY, so I had a Palomita champagne bottle popping with WOOPY. Not exactly a fruit juice, but maybe you could say it was our adult version now that we're all grown up. My drawing skills as you can see are lacking a bit, but hopefully it will do well at the event for this great cause.
The event, the 1st Annual Latino Fashion Show Auction benefitting the Palomita Education Fund, will be held on June 12th in San Francisco, CA. I'm not sure I'll be able to attend, but I think it will be a great event! If you are in that area, reserve your seat and help the cause!
June 12, 2008
Terra SF
511 Harrison Street,
San Francisco, CA
6:30pm
Pink Carpet Arrival
Cocktails & Silent Auction
7:30pm
Live Auction of Special Edition Tees designed by Latino Personalities followed by the Palomita & Chucho Fashion Show
For more information contact events@licenzing.com