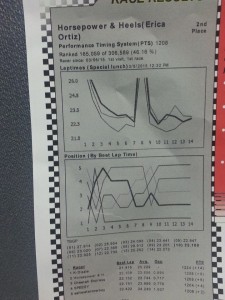 It's Friday, and just before lunchtime, I was informed that a group of my colleagues were taking a "Team building" field trip to Tampa Bay Grand Prix for a little lunchtime go-cart racing. Apparently, a few had done this before and now were opening up the competition to the whole office.
Naturally, my reaction time in giving my "HECK YES" answer was 0.09 seconds.
Go-Cart Racing is Racing
Now, some knowing my drag racing background assumed I'd be a shoe-in, but apparently there are some rather competitive cart racing folks in engineering, so I knew the only advantage I would carry was about a 20 lbs weight advantage over the rest of them. Add in the fact that I've not been in a go-cart (or anything remotely fun and fast like it) since 2008, and I was pretty uncertain of where I'd land in the final finish order (or how I'd ever live it down if I came in at the back).
Because they start you off with some space between you and the other go-carts in front of/behind you, it really becomes a race of you vs. the clock. They started off by having us all throttled back, but around lap 4 they started turning them up. It took me a minute to figure out the braking/accelerating curve of these things, especially once I figured out that mid-lap they had removed the throttle limiter. I started really getting the hang of it the last 5 or so laps of the race. We had a "Caution" throttle down in lap 8, but I am happy to report that I didn't spin out AND stayed pretty consistent in my lap average. I ended up in 2nd place in both average and top lap times, about 4 tenths of a second behind the 1st place average, and 7 tenths behind the fastest lap time.
Competitive, Much?
Completely stoked, I cannot wait for the next outing. I've already been pumping up the rest of the office to start a bi-weekly lunch series, where we'll post "The List" up in the breakroom in Street Outlaw style. One of my coworkers pointed out that of course they'd leave it to the competitive racer to come in and make a full-on series and competition out of the team building experience.
But hey, what did they expect?