Alexis DeJoria finishes 2nd at Englishtown in Funny Car
Alexis DeJoria and the Patrón XO Cafe Incendio Toyota Camry Funny Car team raced to their first runner-up finish of 2015 at the 46th annual Toyota NHRA Summernationals.     The sixth final round appearance of her Funny Car career, DeJoria and her Patrón team had one of the most consistent cars throughout eliminations on Sunday.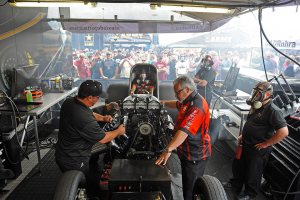 In the opening round, the No. 10 qualified DeJoria would take on No. 7 qualifier Jack Beckman.   Beckman had the upper hand in their previous meetings, with an 11-4 record.    Beckman would leave first, but quickly lost traction and spun the tires as Alexis would power on to victory with a 4.089 elapsed time at 302.96 mph to his 4.458 second E.T. at 206.39mph.   That pass would earn DeJoria lane choice for the second round.
Dom Lagana would also take the reaction advantage against DeJoria in round two, but aborted the run when he also lost traction, as Alexis again made another strong 4.168 second pass.  This would place her in the semi-final round against Kalitta teammate, Del Worsham.
This would be a close race between the Kalitta Camrys.   Although Worsham would take a slight advantage off of the starting line, DeJoria was on his tail and passed him by 330 feet in route to a run of 4.120 to his competitive 4.138 second pass.   The margin of victory at the finish line was just 0.0015 seconds, or approximately 8 inches.    Alexis would also just edge out reigning World Champion and current points leader, Matt Hagan, for lane choice into the finals.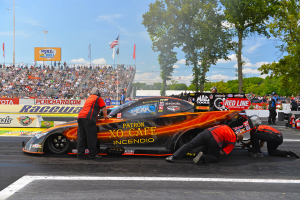 The final round was a nail-biter from start-to-finish.   The two launched off of the starting line with nearly identical reaction times (0.079 versus Hagan's 0.074), with DeJoria pulling away to take the early lead.  She led the race to 330 feet, but Hagan recaptured the lead at 660 feet, by just 0.001 seconds.   He would hold onto the win, defeating DeJoria by a 0.0114 second margin of victory and less than a car length.   An exciting race but unfortunately DeJoria just barely missed setting off the win light with her 4.138-sec pass to his 4.132.
What a day. I'm just beside myself right now," said DeJoria a three-time Funny Car winner. "To do this well at the Toyota NHRA Summernationals is awesome. I've never won in Englishtown and I've definitely never made it to the finals here, so it feels good. I've really got to give it up to my team- they're the main reason we went so far today. They're such an excellent group and they've really got my back. I love these guys like a family. I wasn't the greatest on my reaction times every round, but when it mattered, I really pulled it off.  It was a hell of a final against Matt Hagan. I didn't give anything up on the starting line, that's for sure, and I'm leaving Englishtown pretty stoked."
Although she missed putting her Patrón Toyota Camry in the Winners Circle by just a few thousandths of a second, advancing to the final round enabled the Patrón team to gain sixty valuable points. The team has struggled with only a pair of semi-final finishes over the course of the first eight races, and has sat at the bottom of the NHRA Mello Yello Countdown to the Championship points throughout most of the season. They entered Sunday of the Toyota NHRA Summernationals in the No. 10 spot with only a one-point advantage above the No. 11th ranked driver.   The runner-up finish allowed them to move up to the 8th spot, and put much needed points on the board in an ultra-competitive Funny Car class.
"We picked up quite a few points this weekend, and we're starting to get back into the swing things so I'm really glad we're back at it up in Epping next weekend."
Now ranked eighth, the Patrón XO Cafe Incendio Toyota Camry Funny Car team leaves Old Bridge Township Raceway with 487 points. They compete next at the 3rd annual NHRA New England Nationals in Epping, N.H., June 12-14.