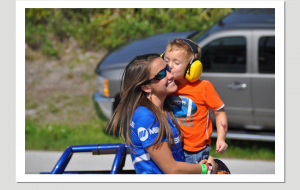 Larsen Motorsports Jet Dragster driver Marisha Falk announced that she will step down from full time driving at the conclusion of the 2015 season.   The 28 year-old from Kenosha, WI is in her fourth season with the Larsen Motorsports team and is one of four Larsen Motorsports jet dragsters that currently compete in the IHRA Nitro Jam Series.
Marisha is the currently the driver of the Applied Racing Components Jet Dragster, but plans to step out of the full-time position, into a back-up driver role for the Larsen team.   This will allow new Larsen Motorsports drivers to gain seat time as part of a recently introduced Larsen Motorsports expansion.
Marisha driving for us is among the best things that has happened to Larsen Motorsports," said Elaine Larsen. "Four seasons of outstanding performance and dedication to the growth of our company have shown her commitment not only to LMS but to the sport of drag racing."
Falk plans to participate in testing with the Larsen Motorsports team in order to keep her license current, and may occasionally be seen at races beyond 2015.  She also plans on being an integral part of the team's driver development program.
She will be hugely missed by her fans but rest assured, Marisha could return in an LMS car," said Chris Larsen.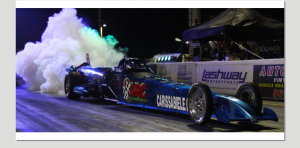 Marisha Falk has a Bachelor's degree in Aeronautical Science and Masters of Business Administration, she has over 10 years of flight experience and her multi-engine air transport rating, and works as a worldwide private jet charter specialist with Paramount Business Jets, putting her knowledge of the aviation industry to use.
I am grateful for the opportunity Chris and Elaine Larsen have given me to drive for our team over the past four years," said Marisha. "I am excited about future opportunities to mentor and share my knowledge and skills with upcoming drivers.  I cannot thank the entire racing community enough for being so welcoming and supportive; you have definitely made my racing career thus far much more meaningful.  It is with great sadness that I close this chapter in my life to open so many more."