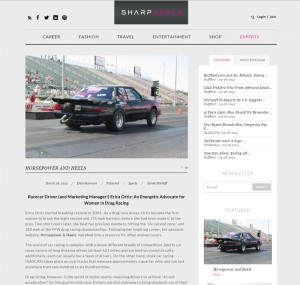 Racecar Driver (and Marketing Manager!) Erica Ortiz: An Energetic Advocate for Women in Drag Racing
Check out this feature on Horsepower & Heels driver and founder, Erica Ortiz on Sharp Heels.   The article talks about being a female racecar driver and what work Horsepower & Heels is doing to try and empower women competing in motorsports.
Sharp Heels is a career, fashion and lifestyle website driven by a community of intelligent, dynamic women offering guidance and inspiration for professional women.
Published Online: March 26, 2015