Former NHRA Top Alcohol Dragster driver, Kelly Fedorowich plans a return to the seat – after nearly two decades on the sideline.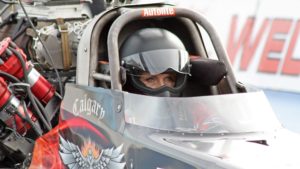 She was 24 years-old, full of drive and ready to tear up the track when she first piloted the family Top Alcohol Dragster entry in 1991. With her husband David, and their infant son Nikolas, the team had embraced life on the road in pursuit of their NHRA and IHRA dreams. Having relocated to Gainesville, Florida in 1990 during on the most epic periods of grassroot drag racing history, the family made a decent living competing and supplemented their income match racing on off-weekends. They traveled across the country for 4 years, living life on road in a White Freightliner between race tracks.
In 1991, they made the switch to the Top Fuel ranks, the pinnacle of the sport. Because young son Nikolas was still just an infant, Kelly made the difficult choice to remain on the sidelines in support of her husband David.
When we hit the road in 1990, Nikolas was only 6 weeks old. Yes, 6 weeks! We all know that there are safety risks associated with any type of drag racing, but none more pronounced than in the Top Fuel category. Drivers accept the associated dangers each and every time they climb into the cockpit of these earth-bound rockets and every time that I strapped David into the cockpit, I wished it were me. But when we made the move to Top Fuel I decided that my turn would have to wait. We were a long way from home and Nikolas deserved the security of having one parent whose career couldn't be categorized as "daredevil."
The family remained on the road, and their adventures even brought them across the globe, when David was contracted to teach a group of Japanese drag racers the fine art of piloting Top Alcohol Funny Cars. The driving students came to the USA without knowing a word of English; and the Fedorowich family would open their home to the students, with Kelly preparing traditional Japanese meals for their guest. During these dinners, they would help teach the trainees English, and learned some Japanese themselves that would aid them on their annual Japanese travels.
We spent a lot of time at Fuji Raceway located right at the base of Mount Fuji. And when we weren't at the track, our hosts immersed us into the Japanese culture," Kelly said. From the shrines and temples of Nikko to Sanrio Puroland – home of Hello Kitty….and endless bowls of ramen soup, we experienced Japan from an entirely unique and truly home-grown perspective."
By the time their foreign travels came to an end in 1994, toddler Nikolas was ready to come home and begin schooling. Kelly and David made the difficult decision to return home to give Nikolas a normal education experience. The pair chose to lay roots in Canada, with Calgary being their new home. David would open a chassis shop, while Kelly would focus on a new venture in fashion.
I made the decision to postpone my driving career until Nikolas was older, but never in my wildest dreams did I imagine that it would be another 25 years before my dream could reach fruition."
Growing up and turning to the Dark Side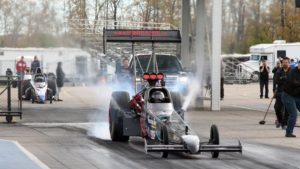 As Nikolas grew, he often took his father's side in the family chassis business. Kelly and David, though content with their decision to give their son a normal childhood at home, still longed for the fast paced, adrenaline fused rush of their Top Fuel memories. In 2011, the family revisited their dreams, launching the debut of their new Dark Side Racing Top Fuel Dragster. The 2012 debut marked Western Canada's only Top Fuel racing team, and put David back in the seat with Kelly supporting the team's efforts.
But the call of a 10,000 hp nitro-burning dragster still burned in Kelly's heart, and the time has come in which Kelly Fedorowich plans a return to the seat with the mission to become the fastest woman in Canada…
Kelly Fedorowich plans a return to the seat
For 2017, the Dark Side Racing team has built an all-new, state-of-the-art Lucas chassis with carbon fiber body panels. Kelly began her training last season, and is ready for her return this year.
We have an incredible season coming together and we've assembled a top-notch group of sponsors to showcase and represent. Couple that with our community outreach program and it's clear that the best is yet to come!"
As she embarks on her journey, she will become Canada's first licensed Top Fuel pilot. Kelly plans to share the driving duties with husband David – and hopes that eventually, she will be racing side by side against him.
[Driving along side David] is something that I've dreamed of doing for nearly 30 years. Becoming the Fastest Woman in Canada has always been a part of that dream."
Community Outreach
Dark Side Racing is an active supporter of Prostate Cancer Canada and PROSTAID Calgary, and returns in 2017 with the cause. The team helps to raise awareness of prostate cancer and raise funds for prostate cancer research.
Kelly's 'Fastest Woman in Canada' campaign will partner with The City of Calgary Fire Department as a recruitment platform during the 2017 season to attract more women to the Calgary Fire Department.
"For many women, the idea that they can compete in or make a contribution in traditionally male-dominated fields like race car driving or fire-fighting is a completely foreign one. By sharing my story I hope to inspire more women and girls to pursue their dreams to be involved in fire-fighting, motorsport, or any other male-dominated industry."
The team has also piqued the interest of celebrated Canadian filmmaker Jonathan Joffe (Jonathan Joffe Pictures), who is currently developing a 3 minute promo video that chronicles Team Dark Side and Kelly's 'Fastest Woman in Canada' campaign. The project is be pitched to Canadian broadcasters as a possible reality show.
Best of luck to Kelly Fedorowich from all of us at Horsepower & Heels as she earns her nitro stripes!