The Life And Career of Susie Wolff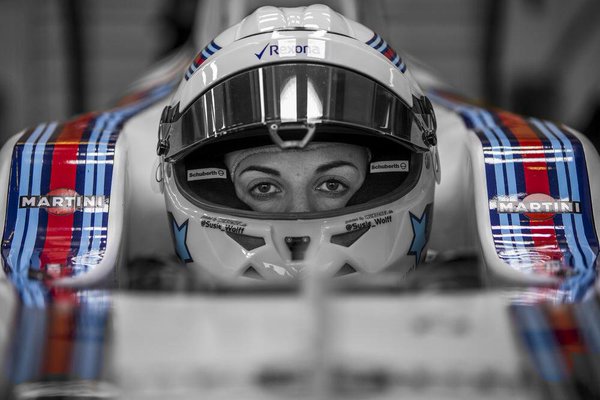 Susie Wolff is a true motor sports pioneer. A female British racing driver who had an incredible career as a F1 racing driver and continues to work toward gender equality to this day in the world of racing. In 2014, she was the first woman to participate in a Formula One race weekend in 22 years. She's a woman who has proven that horsepower and heels go together like nothing else. Although there were quite a few obstacles in her quest to compete in this male dominated sport, she took it on without excuses. This article will cover her brilliant life and career, all the way from birth to her retirement in 2015 and her post retirement activism.
Her Early Years
Born on December 6, 1982 in a little resort town in Scotland called Oban, Susie was born to John and Sally Soddart. It would be them who would instill her interest in the sport of racing. Both of her parents owned a motorcycle dealership—in which she would eventually work—and her father raced competitively. Her parents would later stoke her love of the sport by buying her a go-kart when she was 8 years old. It was then that she knew she wanted to become a racecar driver. When asked about how her upbringing influenced her career, she simply said, "I was brought up by brilliant parents who never once made me think motor-sport was rather for boys; that I was choosing a path unusual for a girl. They instilled in me the belief that I could achieve anything if I was determined and worked hard enough."

While it's true that there weren't many girls competing in go kart racing, that didn't matter to Sally Soddart. All she knew was that she wanted to be on that track competing, a determination that she would carry throughout the course of her life. 
Her Career

6 years after she had taken up go-kart racing, at the age of 14, Susie would go on to win the 1996 British Woman Kart Racing Driver Award. The following year she competed in numerous go-kart racing competitions and did quite well in all of them. By the time she was 16, she had placed 10th in the Go-Kart British Junior Intercontinental "A" Championship. Each year, she continued to be named British Woman Kart Racing Driver of the year, an accomplishment she's proud of to this day. 

By 1999, at the age of 17, she had won numerous go-kart racing categories. She ranked 13th in the British Formula A Championship and 34th in the Formula A World Championships. For a third straight year, she won British Woman Driver of the Year Award. By the time she was 18, she had finished 10th in the British Formula A Championship and was named the World's Top Female Go-Kart Driver.

As good as she was at go-kart racing however, what she really wanted to do was to become a Formula One race driver. And in 2001, she came closer to that goal by moving from racing go-karts to single seat racers. She made her racing debut for the Motaworld Racing Team at the Formula Renault Winter Series. By 2002, she had competed in both Formula Renault UK Championship for DFR Racing, and competed a second time in the Motaworld in the Formula Renault Winter Series. She then placed 9th in the Formula Renault UK Championship in 2003 and finished 5th in the 2004 Formula Renault UK Championship. In 2004, she was nominated twice for the BRDC McLaren Autosport Young Driver of the Year Award and was selected to win the BRSC Rising Star Of The Year Award. She is the first female to ever receive this award. 

She finally made the leap to the British Formula 3 Championship in 2005. She was supposed to compete in the Championship Class for the Alan Docking Racing team, but that didn't materialize because of an injury she sustained. She twisted her ankle during the winter and couldn't finish the competition.

In 2006, she set her sights on the Deutsche Tourenwagen Masters—otherwise known as the DTM—and achieved a best finish of 9th place. During this competition she competed for the Mücke Motorsport team and drove a 2004-spec Mercedes-Benz C-Class Coupe. 

She would continue her success in 2007 when she finished 10th in Mugello, Italy while she was driving a 2005-spec Mercedes-Benz C-Class Coupe. In 2008, she placed 10th in the Norisring Street Circuit in Nuremberg, Germany. However, in 2009, she faced a setback during the Hockenheimring Baden-Württemberg Circuit and had to stop racing after 24 laps due to damage sustained by her vehicle during a first round collision.

In Susie's fifth season, in 2010, she would drive her AMG Mercedes C-Klasse 2008 racing car to seventh place—both at Lausitzring and at Hockenheim—becoming the first woman in 20 years to ever make points at the DRM. She finished that season ahead of her colleagues—Ralf Schmacher and David Coulthard. Once again proving to herself, and to the world, that women can compete in the high paced world of racing. A year later, she would go on to marry Toto Wolff, who was a shareholder of the Williams Formula One Team at the time and would go on to become Executive Director of the Williams F1 Team. She then changed her name from Susie Stoddart to Susie Wolff.
In April of 2012, Susie Wolff would come one step closer to her dream when she was named as a development driver for the Williams Formula One Team. Many critics at that time accused her of being hired because her husband was part owner of the team; allegations that her husband and her strongly disputed. Two years later, during the British Grand Prix, Susie Wolff became the first woman to participate in a Formula One racing weekend since the early 1990s. Unfortunately, her session was cut short due to engine problems she experienced. This problem she incurred again during the German Gran Prix in July of that same year. However, during her race at the German Gran Prix, she managed to address her car problems and ended up finishing in 15th place. She entered the 2015 season as a test driver and eventually had a number of 2 runs and 2 practices. During preseason test runs, she placed 14th during the Spanish Gran Prix and 13th place during the British Gran Prix.
Susie's Retirement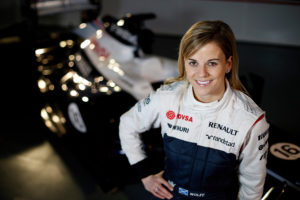 On November 4, 2015, Susie Wolff made the announcement on the BBC that she was going to retire from Formula One Racing. During her announcement, she stated that she always said she would retire from racing when she felt she could advance no further. She also stated that she felt that she had gone as far as she could go in the sport. There was one positive of that announcement, however. She also stated that she would go ahead and race during the 2015 Race of Champions. This race would be her last one. 
Post-Retirement
In 2016, she partnered with the Motor Sports Associated and launched an initiative named "Dare To Be Different." The purpose of this initiative is to inspire female participation in the traditional male dominated world of motor sports. Susie Wolff has expressed the hopeful sentiment that she has "paved the way for women to follow in her footsteps." She also said the following: "We have two issues, not enough young girls starting in karting at a young age and no clear role model. Sometimes you just have to see it to believe it."

The Future Of Women In Motor Sports
Thanks to Susie Wolff, the path has been laid for future generations of women in motor sports. She has been a champion for gender equality in the world of racing and has repeatedly stated that she wants to help the next generation of women racers achieve their dreams. In fact, she stated as much in a recent article in Autosport Magazine. She said, "If I can't be the woman to break through the glass ceiling, then I want to be involved in making it happen for the person who does". 

While the male dominated sport of racing hasn't made it easy on any woman entering the sport, Susie Wolff was able to overcome adversity and make a stand for what she believed in. She always knew that women had a place alongside men in racing and her career has proven that fact. 

Susie Wolff sincerely hopes and believes that she has paved the way for women in racing—and she is right. More and more young women are entering the sport through the junior programs. What lies ahead for women in the sport of racing? While no one can accurately ascertain the future, one thing is for certain: thanks to this female racing pioneer, the future of women in racing looks very bright indeed. And as anyone who knows Susie Wolff can tell you, if anyone can make it happen then she's the one who will.