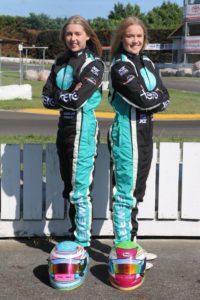 This young, up and coming New Zealand duo are making waves in the Karting Racing world. Say hello to the Stewart Sisters Racing team, our latest featured drivers!
Wellington, New Zealand natives Ashleigh and Madeline Stewart were born into the world of Karting Racing. Their grandfather and father, both established racers, introduced them to the sport from the time they were very little, and the sisters have grown up at the racetrack, spending countless hours participating in the family pastime. Once the girls came of age, it was a natural progression that both would carry on in the racing tradition.
Ashleigh Stewart – Stewart Sisters Racing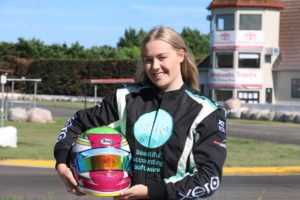 The older of the pair, eighteen year-old Ashleigh Stewart first attended the races when she was just 6 weeks old. Growing up around her father and grandfather's racing background, Ashleigh couldn't wait for her turn behind the wheel, getting her racing start at the age of 10, after begging her father for 2 years. Now in her eighth year of racing, Ashleigh competes in the Rotax Light Karting division.
In the beginning, as Ashleigh was learning and developing her skills, she admits that she was not particularly competitive within the field. But the junior racer worked hard, and with the help of her family and several driving coaches, has made considerable progress in her career and driving technique. This hard work began to payoff, and in 2015 she earned a first place Rotax Light win at the KartSport Manawatu Championship race. That year, she also finished 3rd in the Yahama Light division at the Kart\Sport NZ South Island Champs.
In 2016, she would begin studying under a new driving coach in Tom Williamson. Joining his team in Australia for 2016 has seen a major impact in her driving performance, as Ashleigh stepped up in driving skill and proved to be a front-of-field challenger all season long. She would finish 7th overall in Rotax Light at the KartSport NZ Nationals, and 2nd overall at the KartSport Hawkes Bay Blossom event.
For Ashleigh, this career-progression has taught her much both on and off the track. Being one of few females in the sport, she's used to the attention — both good and bad.
"I guess for me it's normally surprise when I tell people what it is I do, I don't fit the typical type of person everyone expects would love motorsport. I love fashion, makeup and motorsport, they don't usually go together. For a long time, I was not particularly competitive and everyone was my friend. Recently I've begun to race towards the front of the field and things have gotten more tense. I've had some criticism on social media but it generally backfires as there are more people who make positive comments that negative. The negative comments just make me want to race harder and to be better."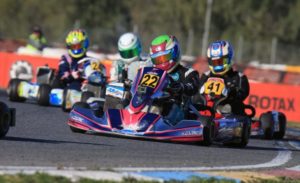 Being treated just like everyone else on the circuit is par for the course, and Ashleigh takes her off-track duties seriously as well, putting in work mechanically to aid in her kart setup, and keeping everything clean and performing well. In addition to her on-track training, she also keeps up with her fitness to handle the demands of racing.
I do a lot of fitness training at the gym. Fitness is really important for the long test days and also the longer races. My trainer is ex army so he pushes us hard but makes it fun at the same time and I really enjoy the challenge. I build muscle quickly so for me its about keeping a balance between weight training for strength and cardio for the endurance. It is important to be able to keep your concentration up at all times and being really fit is essential."
For the upcoming year, Ashleigh will be making some big moves, heading off to attend university in Melbourne, Australia. In what will surely be a busy year both personally and in her racing career, Ashleigh plans to take much of the momentum she has gained this season in her driving and convert that into more podium finishes. She also aspires to make the bigger jump from karts to cars ultimately, and is looking forward to the new challenges that await in her journey.
I've had good pace over the past two years and I'd like to do a better job of converting that in to results. This year I want to get some solid podiums and work towards a move to cars in a year or two."
Balancing her love for racing, and her feminine side has always been an easy measure for the eldest Stewart Sister, who doesn't cave to the pressures that she must sacrifice her femininity to be taken seriously as a competitor in the sport.
The best piece of advice I got — and advice I often pass on, is to always show up as yourself. If you like pretty things and to look good then make sure you carry that through to your racing. There is no need to look like one of the boys to be successful in Motorsport."
Madeline Stewart – Stewart Sisters Racing
Sixteen year-old Madeline Stewart followed closely behind her older sister in the family sport, taking up driving in 2010 and following in a very similar path as Ashleigh.
At the beginning I was very slow but we kept going racing doing as many meetings as possible. It was not until 2013 when I moved in to Juniors that I started to show any pace. We had the opportunity to go and race in Australia at the end of 2013 and that was a big boost. We brought the experience from racing in bigger fields back to NZ and in 2014 I started to race competitively."
Now racing for the past 7 years, she competes in the Rotax Light and KZ2 divisions and has already amassed quite a few accomplishments in her young career. In 2014, she finished 6th in the Rotax Junior class of the KartSport New Zealand National Schools. She went on in 2015 to finish 5th in both Rotax Junior and Yamaha Juniors at the KartSport New Zealand Nationals, and 2nd in Rotax Junior at KartSport New Zealand South Island Championship.
Madeline also joined driving coach Tom Williamson and his team in 2016 and the results were quickly showcased with a No. 1 qualifying performance in Rotax Junior at the KartSport New Zealand Nationals and a 4th place finish. She also made the jump to Rotax Light at the New Zealand Rotax Challenge Round 5, and qualified first there as well in her first race as a senior.
Tom has some special techniques he uses to get the best out of the drivers in his team. Racing as part of a team has really improved my driving. I've had a few top five qualifying in the really competitive Rotax Pro Tour in Australia and Pole positions in NZ. Recently I've started racing in KZ2. They are the formula 1 of karting and are really challenging to drive. I raced at the CIK-FIA Asia Pacific KZ Championship in Macau as part of a 6 person TWM team."
Off-track, Madeline also works out regularly to increase her physical fitness performance, and for the past 3 years has enlisted the help of a personal trainer to work on strength and endurance, both very important to driving karts and especially critical in the more physically demanding KZ2 vehicles. She spends a lot of time going over data from races to help improve, and can handle most of the mechanical duties on the kart when needed. For Madeline, the toughest part comes in balancing her racing ambition and her school studies:
The hardest thing has been fitting in school with my racing particularly with the international travel. Education is very important to me as well as my racing. I have to do well at school over the next two years to ensure I can go to University when I want to as well as it being a really critical two years for my Motorsport career. Motorsport is as much a mental game as it is physical. The physical side is relatively easy to overcome with an good exercise program but the mental side is much more difficult especially for a woman. You've got to work hard not to let the external factors affect your performance. Having a great coach helps, especially one that treats you as an equal with your team mates."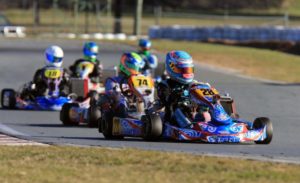 Being one of the few females in the sport hasn't really affected Madeline much directly. Though the attention of being a young woman on the track comes with added pressures and sometimes judgemental critics that examine performances under a microscope, she hasn't experienced much negativity related to her gender.
I've only had one major incident with another competitor telling me I should get out of the way and that females should not be allowed to race. When I was younger there was a general feeling that I was not as good because I am female. All that just made me want to do better and push myself harder. Now days I get mostly positive reactions, I am just as fast as the boys and have earned their respect. The funniest experience was in Macau where I got lots of attention for being the only female in KZ. I had lots of people wanting to take selfies with me."
That experience came on a recent trip to Macau for the CIK-FIA Asia Pacific KZ Championship. Madeline was the lone female racing in KZ, and had the attention of media and fans during pre-race ceremonies on the starting grid. Media, officials and other drivers were all encouraging of Madeline and lined-up to take selfies with the popular young driver.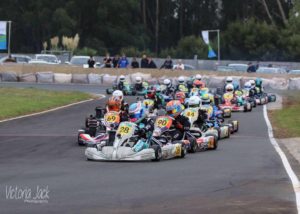 For 2017, Madeline's goal is to qualify for the Rotax World Grand Final in Portugal and to place in the top 10 for the KZ2 division. Future goals include more KZ2 races across Europe, and an aspiration to visit the United States for the SKUSA Super Nats in Las Vegas, NV. She aspires to drive karts professionally in Europe eventually, or has considered a move to cars possible one day.
One thing is certain – the Stewart Sisters Racing duo have only just begun their colorful career journeys. We can't wait to follow their stories and adventures in 2017 and beyond
From all of us here at Horsepower & Heels –
Best of Luck to Stewart Sisters Racing!