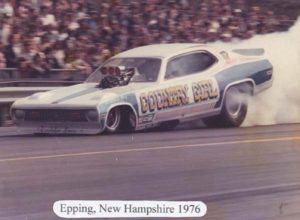 Over the last fifteen years truck and tractor pulling has experienced a dramatic increase in female drivers. It has gone from being a select few females, to several female drivers in each and every class.  However one of those initial select few is Rodalyn Knox, one of the most inspirational drivers in truck and tractor pulling.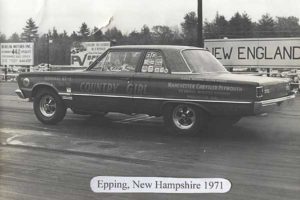 Rodalyn began her driving career in drag racing in 1968 piloting a 1966 Plymouth Belvedere.  She would go to races with her husband, John, where he would compete in the men's class.  Rodalyn would often times compete in the "powder puff" class, which was designed for women.  However her time tickets were always much faster than her husbands, so one day when returning from a pass, her husband John insisted she drive in the men's class. This young 22 year-old was worried about getting into trouble, but competed anyways.
After the class was over all of the men in that class wrote a protest letter and gave it to the track manager, Jack Doyle. It stated that they didn't think a woman should compete with the men. Jack looked at them and said, 'Well I watched her drive in the woman's class and now in the men's class she went to the final. I didn't see her do anything that would make me disqualify her so you guys will have to figure out how to compete with her in your class.' If Jack had not made that decision we would not have been able to continue our racing career."
Rodalyn went on to work her way up in drag racing into the alcohol funny car class where she raced in the New England Alcohol Funny car circuit.  Rodalyn then moved up to the nitro funny car class which she competed in for two more years before they retired in drag racing.  Her vehicle was called the "Country Girl".  For those who know Rodalyn they realize that this is a very fitting name that reflects her personality.
Rodalyn Knox goes Tractor Pulling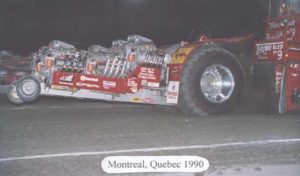 A number of years later Rodalyn's son Brian became interested in the sport of truck and tractor pulling.  It did not take long for him to realize that the perfect person to drive the tractors he was creating was his mother.  In 1990, Rodalyn began driving Brian's four and six engine unlimited modified tractors.  She also drove a four engine and a five engine tractor when the class was lightened.  When Rodalyn began pulling, she was one of three women that were competing at the time.  She won 3 unlimited modified National Tractor Pullers Association Grand National titles and retired from driving in 1998 when her family began their engine business Sassy Racing Engines.
The tractor that Rodalyn drove had roughly 10,000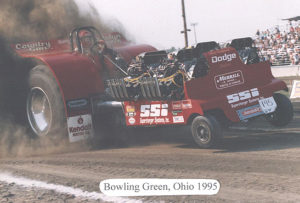 horsepower which could be incredibly intimidating to some.  She enjoyed experiencing the different challenges that the tractor offered her and comparing the differences between her prior racing experience.
"I loved driving the high powered tractors. In drag racing the challenge was the speed. In pulling it was handling all that power and keeping the tractor straight. In drag racing, I had a hand break, a steering wheel and a "gas" pedal. In pulling, I had a hand throttle and I steered with my feet. So when I started driving the tractor I had to learn all over again how to use my hands and feet."
This is a very unique experience as Rodalyn's crew while pulling was her husband and son.  Some would think this would be challenging, but Rodalyn enjoyed the time spent with her family doing something they all loved.
Having Brian and John as team members was the BEST! We understood each other very well and worked very well together. We were a great team. It was a very good time in my life."
Rodalyn firmly believes that teamwork was the most important component of her success.  Although she was the driver she believes that it was her team that helped her reach that success.
"Whenever I won it was for my team. I really didn't think it was just mine. I guess being a woman was special but I never could have done it without my son and my husband."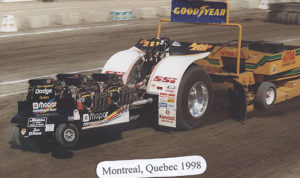 In her years of driving Rodalyn had many impressive accomplishments.  She won the Grand American event at the New England Dragway in 1975 and she was also the first woman to win a class on the East Coast FC circuit in 1975 in New York.  In tractor pulling, Rodalyn achieved the coveted Championship ring at the National Tractor Pulling Championship in Bowling Green, Ohio.
Rodalyn has one piece of advice for women looking to get into motorsports that focuses on perseverance and confidence.  Two of the traits that she strongly possesses herself.
Don't listen to the people who say you can't do it. Believe in yourself and stay focused on your job. If you know you can do this just listen to your instincts. Believe in yourself."
After retiring from racing, Rodalyn went on the search to find something exciting to do.  She got a Border Collie and has focused on that ever since.
"Border Collies are not for everybody. They can be very challenging to train. I bought a farm and started training Border Collies. Over the years, I have had 7 dogs. I have sheep and goats and love working with these dogs. I also worked in Border Collie rescue and found homes for dogs that had been incorrectly placed in homes that couldn't or didn't have time to work with them."
When racing, Rodalyn traveled all across North America, but now she finds herself sticking close to home.
When I was racing I traveled a lot to different events but now I love staying in NH and working at my farm. I guess I truly am a Country Girl."
Thanks Rodalyn for sharing your stories and helping to encourage women in motorsports!