The Female Crewmember of the Year category received 64 nominations and 439 votes for the Horsepower & Heels Women of the Year Awards.    There were several lead changes throughout the 10 day voting period, but a late nominee entered the race and quickly rose to the top of the chart in just the last 2 days of voting.   The battle came down to the wire, and only 7 votes decided your 2015 winner.
2015 Female Crewmember of the Year – Tinzy Aronson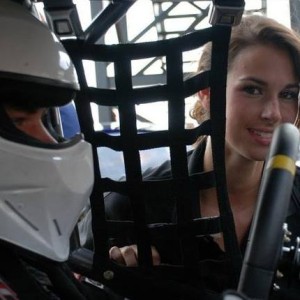 Horsepower & Heels is proud to announce the winner of the 2015 Women of the Year Female Crewmember category – IHRA Pro Stock Crew, Tinzy Aronson!
A quick trip to the Pro Stock pits will usually find Tinzy Aronson buried in the transmission tunnel of Cale Aronson's Pro Stock Mustang, covered in clutch dust.  Nicknamed "ClutchGirl" by her friends and fans, Tinzy has risen through the ranks over the years along side now husband, Cale, serving as his main crew support.
This season, Tinzy has had to serve an even bigger role for Cale, after a tragic accident in West Palm Beach in May left Cale seriously injured and confined to a wheel chair.   Never leaving his side, Tinzy has been there making difficult decisions in the early stages of his care and helping his recovery and rehabilitation process.
Runner Up – Jamie Elrod
Ohio based Team Elrod drag racing crewmember, Jamie Elrod was your Crewmember of the Year Runner-Up for the 2015 Horsepower & Heels Women of the Year Awards.
Female Crewmember of the Year Nominees
Cassie Simonton
Marla O'Guin
Janette Thornley
Paige Sanchez
Courtney Enders
Melissa Urist
Shannon Glidden
Nicole Lemen
Heather Carter
Haley James
Amy Tate
Julie Pierce
Julie Meehan
Jessica Mace
Courtney Force
Martee Burke
Leeza Diehl
Kathy Drummond
Amber Malloy
Megan Meehan
Tracy Pearson
Tammie Gubler
Annette Bauer
Christmas Abbott
Amanda Hayes
Hannah Newhouse
Tracie Paulin
Angie Smith
Madelyn Marconi
Leilani Tindall
Ashley Parlett
Jenna Haddock
Rachel Meyer
Kim Neiman
Andrea Mueller
Kelli Ulrey
Jean Price
Yvonne Potter
Shelly Elrod
Kayli Barker
Terri Stamps
Karen Deakins
Amanda Hoover
Robin Stambaugh
Brittany Eyres
Alex Taylor
Audrey Worm
Bridgett Jefferies
Annette Hall
Samira Rached
Ashley Fye
Rhonda Taff
Madi Furr
Destiny Tindall
Leena Gade
Jennifer Rahaim
Christel Andy
Corey Weigand
Shari French
Amanda Koehler
Rebecca Smith