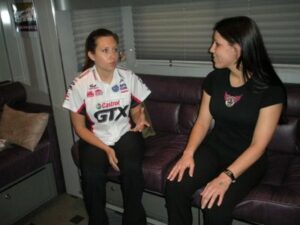 Its been over a week since I got back from a great trip to the 40th Annual NHRA Gator Nationals, and I'm just catching up enough to sit down for an update.
What a great trip! The Gator Nationals have become a semi-traditional trip for me, being the first east coast race of the season, and my first chance to get away and "smell the nitro" for the year.
As usual, the trip kicks off at the Gainesville Ale House on Thursday night, with a chance to catch up to many of my racing friends and a few personal friends from home that come up for the weekend from Orlando.
But the highlight of this year's trip was my opportunity on Friday morning to visit with Ashley Force courtesey of
JFR
PR pro Elon Werner. I met Elon through the new
@JFR_Racing
twitter campaign, and he invited me out to chat with Ashley in the pits. The JFR Twitter accounts allows fans to follow the instant team updates throughout the weekend to get a "behind the scenes" feel from the races in real-time.
Right now, Ashley is living the dream of a lot of us women racers in the PRO leagues of drag racing, being one of the few women competing this year in the NHRA. The advancement of women in racing is a passion of mine, so I was very eager to sit down with the top gal in our sport for some insight into what its like out there with the Big Boys. Ashley is in her third year as a professional Nitro Funny Car racer with her father's premiere funny car team. She's had incredible success as a racer, and is an inspiration to many.
Armed with my Horsepower & Heels TV Cam, I spent about 20 minutes with Ashley in her driver's lounge chatting about what its been like for her as a woman out on the circuit and how she's progressed through the ranks to reach professional status.
PNN
and I are now sorting through the editing, and we'll be kicking off Season 2 of
Horsepower & Heels TV
with this insightful look at the leading lady in NHRA Nitro Funny Car.
Stay tuned for more coming soon!!!