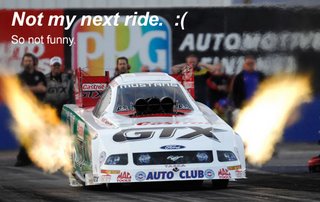 Oh yes. April Fools Day…. the day you can be unnecessarily vicious and it be labeled "All in Good Fun".
Being that my life is pretty much an open book (err… browser window, considering its all online anymore), its not hard to figure out what key things in life would get me pretty friggen excited.
A big sponsor to go racing
Hitting the lottery (to be able to go racing)
Getting a full time nitro professional driver's gig (again, racing. See a trend here?)
A ride-along with the Blue Angels or Thunderbirds
and maybe a date with Bradley Cooper. (I'm still a single woman, folks. let a girl dream!)
So, my April 1st had gone off relatively calm-like. Work had me and my coworkers so busy that there wasn't much foolery going around, and quite honestly, I forgot it was April 1st about mid-morning.
Around 5pm, just as I was leaving work, a unrecognized number popped up on my cell phone. The area code was 313, which I just happened to know was a Detriot area phone number. Puzzled, I answered.
The caller, an unrecognized male voice, was on the line:
Mr. 313: "Erica Ortiz?"
Me: "This is Erica."
Mr. 313: "Hi Erica, this is Jim O'Reilly, I'm with the Motorsports Activation team for Ford. Did I catch you at a good time to chat?"
Me: "Certainly."
(Casual greeting niceties exchanged.)
Mr. 313: "Erica, we've been monitoring your website and promotional efforts with Horsepower & Heels and would like to talk to you about becoming an Ambassador for Ford Racing."
Me: (GASP) "Yes, yes sir."
Mr. 313: "You're currently racing a Mustang, is that correct?"
Me: "Well yes sir, I'm just finishing my racecar now. Its a 2007 Mustang Pro Mod. I'm hoping to debut it soon."
Mr. 313: "Great! We've seen your posts on your website about your loyalty to Ford, and thought having such a charismatic ambassador representing us out there in motorsports and online would be a great partnership."
Me: "Oh yes, I'm a die-hard Ford girl. My blood runs Ford Blue all the way. I'd be honored to be an Ambassador."
Mr. 313: "Great. I understand you're finishing your car now, what are your future plans both upcoming and long term?"
Me: "Well, my plan right now is to try and make some Pro Mod events close to home, and a few ADRL XTF events as well. Ultimately, I'm hoping to try and put together a package to be able to race professionally, as that is my aspiration."
Mr. 313: (in reference to my recent interview) "I see you've interacted with our John Force Racing friends recently."
Me: "Yes, I had a great time down in FL getting the chance to sit down with Ashley. She's fantastic."
Mr. 313: "We'd like to see you as successful right along with Ashley."
At this point, I'm a little short on breath and feeling light-headed. I mean, first to have Ford calling, and them wanting me to be some sort of Ambassador??? I could hardly see straight.
Mr. 313 embarked on a whole long speech about how in today's climate its really important to have people active out in the community and representing them, how mass advertising isn't the answer anymore, and how Ford has taken a new stance of focusing on the grassroots levels and finding people to represent them. All seemed credible. Actually, down right knowledgable to be honest…. they were all key marketing initiatives that made sense to me.
He then explained that they felt I had a lot to offer in terms of my activity in the social networking communities, and how they felt my story would be a great testimonial for Ford. And then the kicker….. the what's in it for YOU line.
So, in exchange for my twitterin'/ myspacin'/ facebookin'/ vloggin'/ bloggin' awesomeness (yes, I'm everywhere), Mr. 313 tells me that they'd like to ensure that I was able to move up…. ultimately to Nitro Funny Car!
Now, as many times as I have had people dangle that dang carrot in front of my nose, you think I'd be leary of such a proposition (or HELLO, remember that its April 1st!), but the fact that this was FORD calling, and that he sounded so official-y, I went through the whole Roller Coaster of emotion again.
So this whole conversation went on for about another 5-10 minutes of him explaining how Ford was really backing their loyal motorsports fans and followers and that this meant putting good representatives in opportunities…. BLAH, BLAH, BLAH.
And then, just as abruptly as can be….
Mr. 313: "Ummm….what? I'm sorry, Erica, can you hang on?"
(Background garble)
"What is today?? April 1st?"
Followed by a resounding CLICK.
FYI, Mr. Not-so-Funny April Fooler…. YOU SUCK!!!