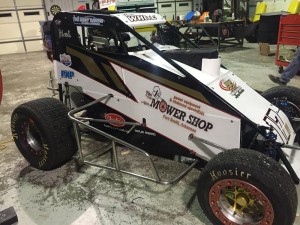 Harli White will kick off her 2016 racing season this week at the 30th annual Lucas Oil Chili Bowl Nationals Presented by General Tire.
This marks the third consecutive appearance at the Chili Bowl for White, who will compete in her family owned car.   During the off season, the team installed a fresh engine, new body and redesigned graphics  in preparation for the marquee midget event at Tulsa Expo Raceway in Tulsa, Okla.   White is set for preliminary competition on Thursday before the finale on Saturday.
"It's huge," she said. "It's what every driver dreams of. I'm so honored we can race the Chili Bowl. Our last two years we've had good finishes. Our goal every year is to try to improve and do better than we did the last year."
The Chili Bowl Nationals have been renowned as the 'Super Bowl' of Midget Racing since 1987, and feature over two hundred race rigs, bleachers for thousands of people and an ever-growing trade show.   The event is contested on the quarter – mile clay oval inside the River Spirit Expo Center at Tulsa's Expo Square.   Without sun or wind to harm it, the indoor garden clay is heavily saturated so that the boldest dirt track artists can shine.
Harli White finished in a C Main each of the last two years, but she was in contention for a transfer to a B Main at both events.
"You have to have a lot of luck and skill," she said. "You have to have a good car. You have to stay away from wrecks. It's a lot of luck at the end of the day, but you have to have your skill to get you there."
White competed in a handful of midget races in 2015 since last year's Chili Bowl, including a top five finish last fall.
"This is the most prepared we've been for the Chili Bowl," she said. "In the past we didn't get to race the midget besides at the Chili Bowl and this past year we got to run it a few times so that should help."