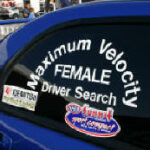 North Hollywood, CA —   Over 400 women from all across the United States sent in entries for the "Maximum Velocity Female Driver Search", sponsored by ESX, SPT and Subaru.  The prize: a chance to drive the ESX SPT Subaru for the 2005 season.
Maximum Velocity Female Driver Search
The ESX Subaru WRX STI competes in the NHRA subcompact class Sportsman RWD, against a host of Supras and other class heavyweights. But the all-wheel drive street equipped Subaru holds its own, with driver and Easy Street owner Ali Ashfar collecting 6 coveted NHRA Wally Awards and running fast enough to claim the fastest WRX in existence with a 154 mph pass at the World Finals in Pomona, California.
The search started off about 4 months ago, with owner Ali finalized plans to build a new tube chassis Subaru, thus leaving the street tired ESX without a driver for 2005. The "Maximum Velocity Female Driver Search" was Easy Street's call to ladies all across the country that wanted to be considered for the task. The winner would be named Easy Street's new driver, receive a $40,000 salary, and travel the country attending media events and campaigning the car for the 2005 season.
Horsepower & Heels driver, Erica Ortiz, first learned of the contest from Pro Mod driver Annette Summer, whom thought it would be a great opportunity for Erica to gain some press recognition. Though Erica has been a die hard domestic fan since day one, and considering the fact that her own car was over a second faster than the Subaru, this would be a step backwards for the experienced radial driver. But with little sponsorship support leaving Erica struggling to foot the majority of the bill, the chance to gain media attention in a national event such as the NHRA Subcompact class, especially with the incentive of a salaried position was too good to pass up.
Erica obtained the entry form from her local Subaru dealership, quickly answered the form's questions, and mailed it in. As she would later learn, her application was one of the first 10 received, out of over 400 that would be received by the contest's October 18th deadline, and it immediately caught the attention of the Easy Street team. She quickly received a phone call from Ali in early September, telling her that her entry had looked very promising, and to explain in more detail what the contest entailed. 4 finalists would be selected to fly out to Hollywood, California on an all-expense paid trip to meet with the Easy Street team and compete for the top spot. Each of the finalists would be recorded for a reality show pilot episode based on the team's experiences through the 2005 season. The finalists would have virtually no notice prior to their departure for Hollywood, so Ali wanted to ensure that Erica would be prepared should she be one of the final 4 selected. It would be over a month of nail-biting before that fateful phone call would come.
Finalists California Bound
The contest officially ended on October 18th. Based on the conversation Erica had with Ali earlier the month before, the finalists would be notified shortly after, and would board a plane headed for Hollywood on October 21st. Her hopes sank when by Wednesday morning; she had not received any phone calls. But later the next day, she received another call. It was Ali- Erica's phone had failed the night before, and they could not get through. She was among the chosen finalists, and her plane departed in less than 24 hours! After frantic plane reservations were finalized, details arranged, and last minute necessities obtained, Erica Ortiz was Hollywood bound with all her racing dreams in tow.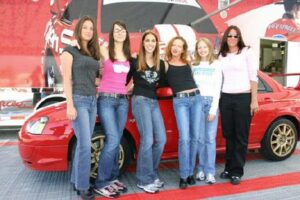 When Erica landed at LAX in Los Angeles, the ESX team was there to welcome her in true Hollywood fashion: a sign bearing her name, a handshake, and a camera documenting every move of her arrival. She met her co-finalists: Julie Stepen, a cute, pixie-like 18 year old Super Comp dragster racer from Grand Prairie, TX.   Kala Rounds, a 33 year-old rally, autocross, ice-racing, and hill climbing veteran from Portland, OR.   Christina Eldert, a 27 year old fellow Fun Ford Weekend Drag Radial competitor and the first True Street Mod Motored Champion.   Joanna Balsamo, a 24 year old Atlanta rally crosser, who campaigns a Subaru STI and is well versed with all things Subaru.  Barbie Kessenich, a 30 year old local from Burbank who already competes in her 11 second Easy Street prepped WRX.  Michele Shapiro a 34-year-old Manhattan native and Glamour magazine research editor whom has competed in several Off-Road rallys across the Sahara desert and various Gumball Runs  across Europe. Stephanie Eggum, a 24 year old Chicago based sport compact racer, who's PRO4 Honda has been deep into the 9's.
After a brief introduction at the press conference, the Maximum Velocity girls hit the track in some stock Honda Accords for a little "practice" session. A few press photo shoots, and some candid camera introductions later; the group headed back to the hotel to prepare for a night out in Tinseltown. ESX, Subaru, and the NHRA were hosting a VIP party at swanky Hollywood night club, the Highlands, and the Maximum Velocity Girls were on-hand to meet and greet NHRA fans and sponsors. The back patio was reserved for the NHRA party, overlooking the Hollywood Walk-of-Fame below.
Track competition at Pomona Finals
Saturday morning's wake up call came way too early, but the girls' all managed to make it out of bed and to the racetrack. After tech-ing in Subaru exhibition vehicles, the group headed back to meet and greet various corporate Subaru bigwigs. It was explained that the finalists were all under close scrutiny and being judged on how well they interacted with sponsors, fans, and crew members. The driving task for the day entailed them driving the various models of Subarus ranging from STI's to an Outback wagon. Easy Street explained that the first pass's objective was to cut the best reaction time possible. Erica's round one vehicle: a manual-equipped STI. Having been 4 years since she had raced a manual in any form, she was a bit apprehensive as they approached the tree. The tree was changed at the last minute to a .400 Pro Tree, which complicated matters further. But Erica managed to pull off the best reaction of that round, with a .276.
On Sunday, the girls all shuffled cars for Round 2. This time, Erica was assigned to an automatic Outback wagon, the slowest of the pack. Round 2 instructions dictated that the group deep stage, and try again for a killer light. This time, Erica managed a .218 light, securing the 2nd fastest reaction of round 2, behind Julie's .202 light. By 3 round, Erica found herself in another manual WRX. Each of girls were separately given varying instructions to either stage or deep stage. With renewed confidence in her manual driving capabilities, Erica entered Round 3 as a regular staged candidate. But as luck would have it, the car rolled forward slightly when she brought it up to the 5000 RPM required to leave without bogging the traction happy AWD Subaru. Catching the car before red lighting, Erica only managed a .330 light, still good enough for 3rd fastest reaction, but failing her instructions.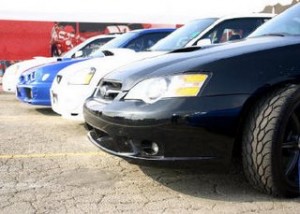 As they prepared to leave, each girls was brought into the "hot seat" for some camera question and answer sessions. Each of girl was asked why they were the best candidate, and what appealed to each of them personally about the contest.
A panel consisting of the Easy Street team, Subaru executives, selected fans, and other industry sponsors would decide the winner. They definitely had quite a difficult decision at hand. Each of the contestants would receive a call to announce the new ESX/SPT/Subaru driver for 2005 by Tuesday night. The official winner will be announced to the public at the SEMA show in Las Vegas, in November.