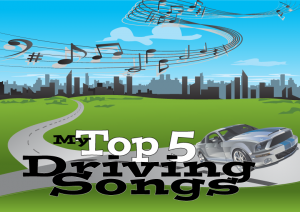 Whether it's the soundtrack that inspires a long road trip to clear the mind, an adrenaline spiked song that sets up each trip down the track, a song out with the girls or one sitting beside your sweetheart, driving songs can meet every mood.   Here's my top 5 driving songs for different gears:
Clearing my Mind/Cruising:  Top Gun Anthem
If I could choose only one song to be my favorite, this would be it.  My total geekdom for Top Gun aside, there is absolutely nothing like dropping the windows on the the Mustang and hitting play + repeat on this classic.    When I really need to clear my mind and just BE, I'll silence my phone and hit the road to the sound of Steve Stevens' unforgettable electric guitar solo.
For Race Day:  Tiësto  
Silence – Delerium featuring Sarah McLachlan
I think everyone is a little different when it comes to what they need to get pumped up (or focused) on race day.   For me, preparing in the staging lanes for a run, I liked to start out by calming my nerves and tuning out the world to focus on the round ahead of me, but as we neared the starting line, that would gradually reach a crescendo right up to the point where the tree drops and I'm flying down the track.    This song embodies both of those components for me, with the contradiction between the increasing intensity of the beat and Sarah's soothing voice.   The biggest part though for me is the break in the song (skip to 4:38) which begins the intense build-up that brings me chills that parallel what I feel going through the burnout, staging, and then the drop of the tree and racing down the track until parachute deploy.
Out for a Ride:  KCamp 1Hunnid

Nothing beats rolling out on the Harley with Bayside Militia for a chill cruise through town, listening to KCamp's 1Hunnid bumping from one of the baggers.  Whether rolling to a show or just around the bay, everyone has their own style in the group, but all appreciate the urban riding culture.
Girl Power Anthem:  Pink  So What
When it comes to road-tripping with my favorite gal pals and pumping each other up, Pink is *THE* go-to songstress for unapologetic badassery.   After a few verses of So What, me and my gal pals are ready to take on anything!
Ridin Shotgun with the Soulmate:   Tim McGraw Shotgun Rider

It's been awhile since I've even listened to country music, but when I heard this beautiful song, it instantly made me smile.  What a perfect song for crusin' with the soulmate!  Roll, won't you come roll with me slow, fast, full speed…
What are YOUR favorite Driving Songs?
Tell us your favorite driving tunes and why they MOVE YOU.       Share them in the comments below!