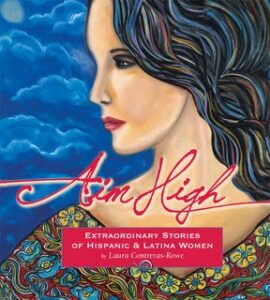 Huntsville, AL– Horsepower & Heels driver, Erica Ortiz, is one of 33 inspirational Hispanic woman role models selected for inclusion in a motivational book called AIM HIGH: Extraordinary Stories of Hispanic and Latina Women written by Laura Contreras-Rowe.
Erica Ortiz is as equally adept with a cosmetic case as a crankcase.  She discovered her passion at an early age and continues to challenge herself in the male dominated sport of racecar driving….. -excerpt from book
Aim High Extraordinary Stories of Hispanic and Latina Women is a book that offers hope and inspiration. Author Laura Contreras-Rowe has traveled the country in the last year meeting and interviewing inspirational and amazing Hispanic and Latina women. This book features 33 thought-provoking positive role models from all over the country and from different professional backgrounds to tell their story, delivering a powerful message that despite financial challenges, family obligations and horrific environment or events: a young Hispanic or Latina woman can succeed to astounding heights with courage and tenacity.
"It is such a great honor to have been included in such a powerful and inspirational group of women.   This is something that I will treasure going forward, and also represents a meaningful part of my life."  Erica said of the honor.   "I hope that many other young latinas will benefit from the stories told within the book, and that each woman is blessed with even more success in the future."
Copies of the book can be reserved online.   Special personalized signed copies can also be reserved at the Horsepower & Heels E-Store.
THANKS TO THE SUPPORTERS OF HORSEPOWER & HEELS RACING
http://www.briskusa.com/ — BRISK SPARK PLUGS
http://www.pnn.com/ — PNN.com
http://www.trickflow.com/ — TRICK FLOW SPECIALTIES
http://www.harlandsharp.com/ — HARLAND SHARP
http://www.excessiveengineering.com/ — EXCESSIVE ENGINEERING
MOODY RACING ENGINES
http://www.exileturbo.com/ — EXILE TURBO SYSTEMS
http://www.hernonmfg.com/ — HERNON HIGH PERFORMANCE SEALANTS & ADHESIVES
CONTACT Horsepower & Heels Racing
email: press at horsepowerandheels.com
office: 407.283.7930
web: https://horsepowerandheels.com/