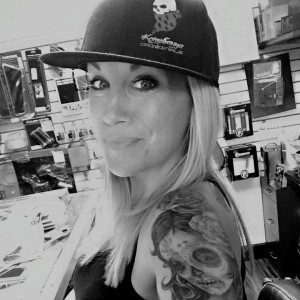 Whether you find her traveling the roads avoiding mayhem with Allstate, behind the counter at Kory Souza Originals, or over the airwaves  on her very own radio show, Courtney Lambert knows only one pace in life…. Wide Open.
The Early Years
Her passion for motorcycles can be traced back to her childhood.  Growing up in Chattanooga, Tenn., Courtney Lambert was the oldest of three and the only girl – a self-proclaimed 'Daddy's girl'.  An avid dirt bike rider, her father loved to tell the stories of his youth and growing up on dirt bikes, riding the Chattanooga mountain sides with his cousins.    It was no surprise that Courtney's first bike came at age 5 – a small Honda 50 dirt bike, which she says she promptly rode "straight into a brick wall."
A dedicated athlete through out her school years, Courtney was a fast-pitch softball star, playing 2 seasons of the sport per year for 14 years.   A bit of a rough start on two wheels, a move to the Atlanta area at age 13, and a busy schedule in school meant that bikes took a back seat for awhile as she grew up.
My dad's company transferred him to Atlanta when I was 13. Sucked at the time, leaving my friends, but kind of allowed me to reinvent myself and make all new friends. And it put me somewhere that offered so much more opportunity and diversity. Best thing that could have ever happened to me."
Her dad always had a love of classic hotrods, a love that Courtney also shared.   After she left school, that interest would expand into custom paint and auto body, and eventually would lead her to re-sparking a love for custom bikes.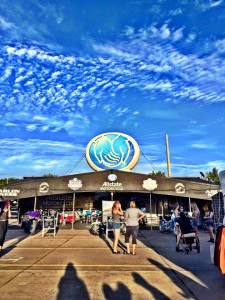 Her professional start in the motorcycle industry didn't come until she was 27 years-old.   She was approached by Allstate Insurance to become a spokesperson for their Motorcycle product, traveling across the country doing stage shows and emceeing national motorcycle events and rallies.
…it [Allstate's Job Offer] didn't even sound like work to me, so I accepted! Eight years later, the program has grown drastically and I'm still enjoying my time on the road with Allstate Insurance."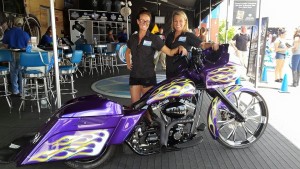 Allstate needed a woman with marketing and public speaking background, one with motorcycle knowledge and who could ride.   The job had Courtney Lambert written all over it.  She dove into the industry head-first and completely devoted her life to the scene, evolving it from a hobby, career and into a full-on lifestyle she never imagined was possible.  She admits,
" I was, and still am, obsessed with it."
Wide Open onto the Airwaves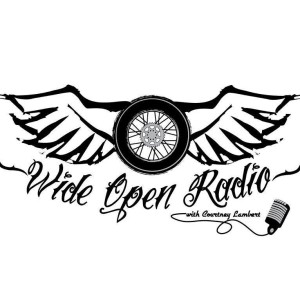 In 2010, Courtney began hosting her own talk radio show about motorcycles called Wide Open Radio.   She was on FM Radio stations in the Chattanooga, Nashville and Atlanta markets.   With no prior training or knowledge about radio, she adopted the 'Fake it 'til you make it' mantra, a process she said took a few years.   Relocating from Chattanooga to Sarasota, Fla., she moved the show to the Orlando/Tampa market, before finally moving to an internet radio platform.
It wasn't until 2015 that I finally became intentional with Wide Open Radio and made a growth plan and stuck to it. During this year, our listeners grew from an average of 750-1000 listeners per episode to over 35,000 listeners per episode – and we're still growing! I still can't even believe that as I'm saying it! So cool!"
Courtney also launched the Wide Open Radio Show website, which she is building to become a leader for custom motorcycle entertainment and news – including archives of all Wide Open Radio episodes, product releases & reviews, national event coverage, special pricing offers from top manufacturers and blog posts about the latest news, trends and events in the industry.
With Wide Open Radio currently in a growth spurt, Courtney is pushing to keep up with the demands of her growing legion of listeners.  They recently lengthened the show time from one hour to two hours, and are planning to add shorter, mini episodes throughout the week.
She also is developing another show platform to add to the Wide Open network this year, involving her love of classic cars.    Though she currently does not plan on hosting the show, she will be involved in producing it.
Where Two Roads Merge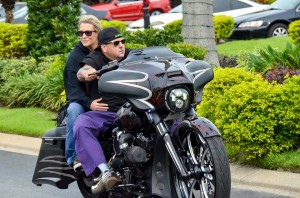 Along the busy road of her Allstate travel schedule, and through her radio talk career, she would meet and befriend so many key individuals in the motorcycle industry.   But it was one very special custom motorcycle builder that would grab her attention.     His name was Kory Souza, and the two would hit it off, sparking a very complementary love between two people who both shared a strong passion for their work and the motorcycle lifestyle.
In addition to Allstate and her work with Wide Open Radio, Courtney also manages the frontend of the
Kory Souza Originals
business, taking care of all the phone calls, billing, foot traffic, marketing, events, product releases and some of the sales as Kory and his crew take care of the backend business – building beautiful machines that keep the customers lined up at the doors.
I truly found my home here. When I am not at the shop, most of the time I'm wishing I were there. Crazy, I know, but I am seriously passionate about growing this business. Kory is super talented and I'm so proud of this company he has build from the ground up, all by himself."
The pair have big plans for growth in 2016, with an upcoming release of a new product line being launched in February.  The new line of custom parts will feature everything from seat pans, tag brackets, to handlebars, all designed by Kory himself.
Finding Balance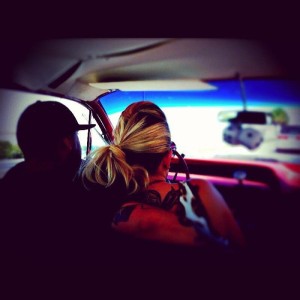 With such an impressive resume, it's hard to imagine how Courtney manages to keep up with such a frantic pace.   She credits her love for the people in the industry as a driving force, whom she says are
"some of the kindest, most generous people out there."   
She also adds that her ability to multi-task and her habit of writing things down help keep her on track and able to fit everything into her busy schedule.
It helps that I've streamlined my career so that everything I do is in some way related to motorcycles. This allows me to use my contacts and connections for whatever I happen to be working on at the moment. All 3 sides of my career feed off the others this way. Things are pretty much always crazy and our schedule is always full, but I wouldn't have it any other way!"
And when there is free time, Courtney has a stable of her own cool rides to attend to, including a 2005 Harley Davidson Sportster, a customized Honda Ruckus, and a 1963 Impala.    Her and Kory also have a rigid board track-style bike project in the works with a leaf spring front end that will feature the trademarked Kory Souza Originals flair.
But what does her family think of her Wide Open lifestyle?
Two of my family members, my dad's brother and my dad's dad, have been in severe motorcycle accidents, so my family, especially on my dad's side HATES that I ride, but I love it too much to stop."
Yet Courtney still enjoys riding dirt bikes with her dad in the woods behind his Atlanta home when she visits, adding that "life is too short to live anything but Wide Open."