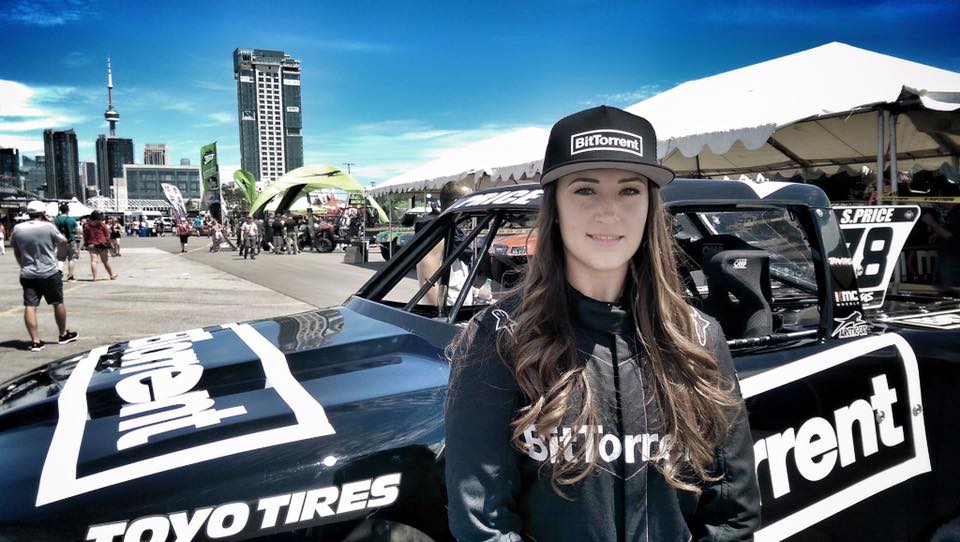 A successful Stadium SUPER Truck debut for Sara Price at the Honda Indy Toronto event on July 15-17.   The 23-year-old Price was the first female to start in the SPEED Energy Stadium SUPER Trucks Presented by TRAXXAS competition.  The Canyon Lake, California resident made her debut behind the wheel of the 650 hp rated BitTorrent No. 78 after just a single practice session in Charlotte, NC in June.
Sara Price, a Champion motocross and UTV racer, would make three appearances on the 1.755 mi (2.824 km) temporary street circuit throughout the race weekend.   Her performance included feats hitting speeds upwards of 140 mph, and launching her BitTorrent No. 78 truck over 20 feet in the air off of the four course aluminum constructed ramps.
Successful Stadium SUPER Truck debut for Sara Price | Friday Practice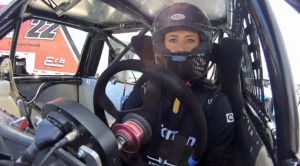 Price would take to the track for the first time on Friday afternoon for a 20 minute Practice/Qualifying session. She was careful and cautious, patiently feeling out the No. 78 truck, and avoiding damage.  Price would constantly lay down lap after lap, learning the braking zone of each corner and what marks she needed to hit in Saturday's first race. Feeling comfortable with her driving, Price was already posting competitive times to run toward the front of the pack.
"Practice I had 1 goal to just go out there and get as comfortable as I can with the truck and track and stay calm and collected, keeping the truck in 1 piece and have a good foundation to build speed off of, I did just that!" said Price.
Successful Stadium SUPER Truck debut for Sara Price | Saturday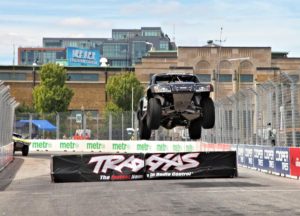 A historic and successful Stadium SUPER Truck debut for Sara Price would begin Saturday with a start in the 4th position.   The qualification spot is based off a complete inversion from Friday Practice/Qualifying times.  In the first lap, Sara experienced mechanical failure, with the truck dying on her.  Having to restart it, Price would get passed by multiple competitors.   But Sara would keep calm, and resume her own race, learning each time around the tricky circuit.  The young California motocross standout would adapt quickly and keep her truck 100% without a scratch to the equally prepared 650 hp high flying trucks.  She would finish her successful SUPER truck debut in a very respectable eighth position for her first SST race.
"I lost a lot of positions early on due to my truck turning off but I recovered quickly and stayed out of the carnage, gaining a lot of confidence in the truck, staying smooth and collected. Couldn't of asked for a cleaner first race and now I know what to expect," Price said.
Successful Stadium SUPER Truck debut for Sara Price | Sunday
Using the knowledge learned in Saturday's first race, Price would make her second SST start on Sunday. Turning heads early, and capitalizing on a mistake by former CART/Champ Car Champion and Toronto native Paul Tracy, she would move from the fourth starting position to the lead on Lap-1.   Able to hit all her marks, and catapult her truck off the 36 in. high ramps Price, would lead her first three-laps of competition in an impressive way.
A double team by SST standout Robby Gordon of Orange, Calif., and 2015 SST Champion Sheldon Creed of Alpine, Calif., would overtake the newcomer Price.  The veteran pair would work their way thru traffic to apply heavy pressure to Price for the lead. A pass on the inside, and the tandem overtook the first two positions.
Sara would hold her ground, running with the lead pack until Lap-8.   Her brakes would being fading considerably on her SST, forcing her to miss multiple braking zones.  She would ultimately finish in a very respectable ninth place as a result.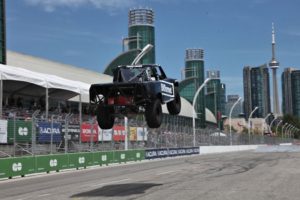 Overall, a very successful Stadium SUPER Truck debut for Sara Price, who not only made history as the first woman to compete in the series, but also earned the respect of all her male counterparts by keeping the truck clean and running a good race.
"It was really cool to see Sara running up the front off the pack on Sunday. The way she approached the weekend was a credit to her and sponsors. As they say to finish first, first you must finish! Look out boys there is a new girl in town." – Paul Morris, Fellow Stadium Super Truck competitor and podium regular, Australian Motorsport Legend.
Price is hungry to return back to the track to look lead more laps and capture her first SST podium finish.
"On the line of the second race I knew what I needed to do and where I could push it, and start being more aggressive, I wanted to show I belong up front and I did just that, leading those 3 lap was a feeling I can't even describe – the adrenaline was intense, the crowd was going crazy, but I stayed calm and collected and proved I belong up front with the best," said Price.
Sara's break through and record setting weekend was supported and fully documented by BitTorrent Inc., a media company dedicated to empowering radical voices in sports, music, film, and more. Their global consumer media platform gives athletes and brands outside the mainstream exposure to over 200 million fans.