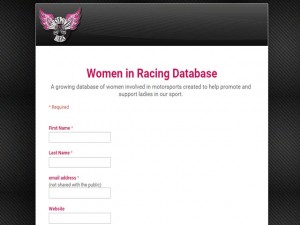 A major part of seeing Women in Motorsports succeed, is being able to share with the world our successes and our individual stories.
Part of the difficulty I've seen and experienced as both a racer myself and a contributing writer, is getting more mainstream and regular coverage, not just novelty or interest pieces (though those are also great).
The more regular and mainstream coverage of Women in Racing receives, opportunities and recognition will follow.   Right now, searching for news about Women in Racing yields a handful of sites who dedicated themselves to getting the news out for this cause (like our friends over at Chicas Racing and Female Racing News).   But a spattering of voices in the crowd aren't as loud as a collection told together, so we've decided to create a Horsepower & Heels Women in Racing database with the aim of helping to more thoroughly tell these stories.
Horsepower & Heels Women in Racing Database
Our goal is to build a database that not only helps promote your websites and social media along with your peers, but creates a network that allows you to reach out to one another and help the cause together.   We'll begin by forming a database list that links back to each racer's personal sites.   We've also included an opt-in selection for the Horsepower & Heels Email Roundtable, a group that shares key information related to all women in motorsports, as well as an option to subscribe to this blog (so we can stay in touch!).
Please, take a moment and fill out the Women in Racing Database form.    It only takes a moment to fill out.    Help share this with other ladies in our sport: female drivers, crew members, team owners, and other motorsports roles welcome!