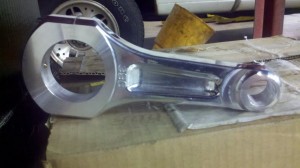 Over the last few years of inactivity, my racing efforts have been spread across a few states.  The racecar resides in Orlando, the engine components have been sitting in Atlanta with Mr. Moody, and other stuff never left Alabama at the chassis shop.
As time has ticked on, its been difficult to remember where the car stands, but now that some renewed energy has come back for my racing program, I've started to regroup.
This means that Goal #1 is to get the racing program back in a position where I can manage and take inventory of what needs to be accomplished going forward.
This weekend, I was able to set the wheels back in motion with a quick trip to Atlanta to collect my engine components from Mr. Moody.  He's be patient with me and always been supportive, even though I had to put my racing on the back burner for the last several years.
They may be just baby steps, but they're steps closer to the larger goal.  One day at a time, and chip it away~!