Erica Ortiz and her Horsepower & Heels Racing team have recently resumed work for a return to racing competition after a 9-year hiatus.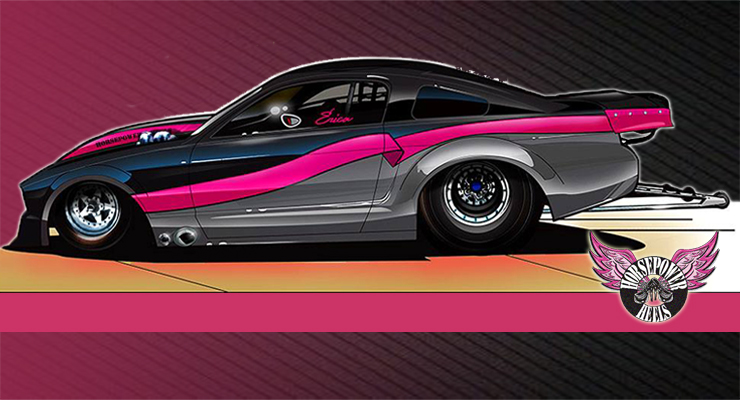 The all-female Pro Modified team was last seen in competition in 2006, just off a successful transition into the Fun Ford Weekend Pro 5.0 class.   Ortiz was at the top of her game in her rookie Pro 5.0 season, finishing as the series runner-up for the season championship, and breaking several records in the process.  The following season, she began a rebuild process, eager to advance her career into the NHRA ranks and build on the momentum of her previous success.
Midway through the new car rebuild, economic hardship took hold of our country.   Sponsorship became scarce, and the new Mustang race car was forced to the back burner, as Erica shifted her attention to her professional career and personal life.   A cancer scare had a very profound effect on Erica as she disappeared from the racing world in a very private struggle and fight.  Though she wanted to return,  her energies were focused on health and family.  But she made it through the challenging times, established a new career, fell in love and started the family she almost lost the opportunity of ever having in 2013.
With private affairs in order, the team is ready for a different kind of homecoming, a comeback to racing.
"The racing never leaves you," says Erica.  "You can leave the sport, you can fall out of the loop, you can even lose track of the friends you've made in the pits over the course of so many years.   But the RACING, it never truly leaves your blood.  It's always there, yearning to make its way back out again."
Comeback Campaign
Erica has been working behind the scenes getting the ball rolling.   She attended a few races, making new connections, learning about the changes in racing classes, and reassessing where the car stands on the build.    She recruited the help of Rod Burke at Hot Rods by Burke to design a new look for the car.   The rendering displays a pink ribbon motif, to honor the Horsepower & Heels charity partnership with the Breast Cancer Research Foundation.   The Horsepower & Heels website was also recently updated to ramp up efforts for a full-racing return.
Sponsors
The team is actively seeking marketing partnerships, and will be carrying the torch still for the original sponsors on board in 2007 – Brisk USA Racing Spark Plugs, Trick Flow Specialties, and Harland Sharp.    Recent additions  Excessive Motorsports and RJS Racing have come on board to support the team in their comeback quest.
A ClutchFunded crowd source campaign is also kicking off to allow fans, friends and supporters to raise some monetary support for the team.