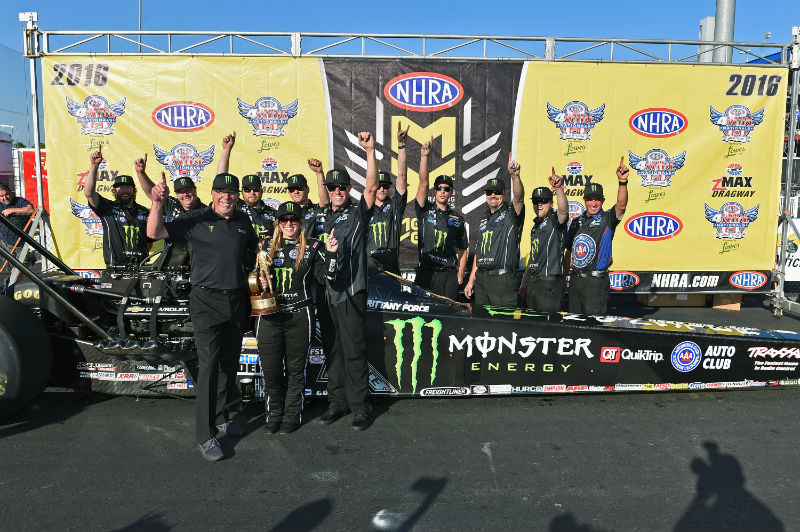 NHRA Top Fuel driver, Brittany Force, may have waited a few seasons to earn her first win in the class, but she didn't waste any time getting a second victory under her belt.   The Monster Energy Top Fuel dragster team delivered consistently all day on Sunday, resulting in a 4-Wide Win for Brittany Force.
Over the course of three elimination rounds of Four-Wide racing, Force had the quickest Top Fuel dragster in all three quads she raced.   When it mattered the most, Force was able to keep focused and used stellar reaction times to secure her second win in three races.
The format for the 7th Annual Four-Wide Nationals presented by Lowes Foods confuses the most veteran of drivers.  In the chaos, drivers crossing the finish line at nearly 320 mph don't know whether to celebrate or suffer in defeat.
"I didn't see (the win light) and didn't even know we won until they pulled me in to where all the Fox Sports 1 cameras were. I asked them to make sure.  I said, 'Did we win?' So I didn't even know until I got out of the car and that was very exciting.  No one could probably see, but we thrashed to get up here and I didn't think we were going to make it up to the lanes in time to run here," said Force. "Our belts got pulled back when they put the car back together and we had to unbolt the car and then re-buckle me in and I wasn't sure we were going to make it.   But we did and I guess it's good because under pressure we all figured it out and got the car down the track."
The Monster Energy team is hitting its stride to start the season thanks in part to the technical alliance with Torrence Racing and the oversight of Top Fuel tuner Alan Johnson and crew chief Brian Husen.  Brittany has raced to three final rounds in the last four races.
"I just want to say thank you to Alan Johnson and Brian Husen and the entire team because I am just so proud of everyone," added Force. "That is just incredible to know that Alan Johnson and Brian Husen can put a car together that is that consistent every single run and run like that.  It's insane and I am so proud to be teamed up with them.   It really shows and it really builds my confidence up for the season.  The season is still getting started but we are definitely off to a really good start."
Force earned her first victory at the Gatornationals, and has won a total of twelve rounds of racing this season. In the previous two seasons, it took Force twelve races to capture twelve rounds wins and her career best final round total in one season is four.   It took the Monster Energy team 75 races to get their first win but only two races to pick up win No. 2.
People say that the first win is the toughest and it was because it took me 'til my fourth season.  My second one came easier but I wouldn't say easiest because it is still tough.   These guys on my team are the hardest workers that I have seen and they have dedicated everything into this car.   Now I get to celebrate with them in the winner's circle," added Force.
The win was Force's first at zMAX Dragway, and marked the first win by a female in the Four-Wide format.   The only racetrack that features four lanes of action, Charlotte's 4-Wide Nationals are tricky for even the most seasoned drivers.   Many struggled with staging mishaps and were distracted by the chaos that ensues with 40,000 HP all taking the starting line at the same time.
"I am still just trying to get over that Four-Wide deal where I got so screwed up in qualifying and just not coming in with a clear head.  I was just trying to find my focus and it's tough and to be able to win four wide is amazing.   To be the first female, that is pretty awesome."
Force had to out run two-time Top Fuel world champion Antron Brown in every quad of eliminations to score the victory. In the first session, Force was the first to the finish line with an event-quickest elapsed time of 3.734 seconds. In the second quad, she was able to pick her lane again and had to face off with Brown, Richie Crampton and JR Todd. Again Force got to the finish line first with Brown on her heels.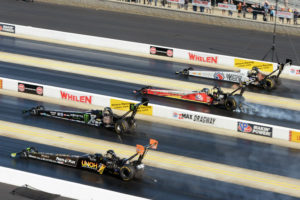 In the final quad, Force had her best reaction time of the day, .042, to leave first on Doug Kalitta, Brown and Clay Millican. The winning elapsed time of 3.764 seconds at 319.98 mph was enough to edge out Brown's runner-up time of 3.779 seconds.
But before that final run, Force's team had to thrash in the staging lanes and the 2013 NHRA Rookie of the Year was afraid they might not make the call.
You know, sometimes drivers just do better under pressure and I always wondered what type I was.  It wasn't just me, it was the entire team.  I don't know if everyone could see but I was coming up here there was a problem with the belts.  But they unbolted the car and we got it figured out and we got the win," explained Force in the pressroom.
While Force was focusing on beating some of the toughest competition in recent Top Fuel history the crew chiefs were battling twice as many lanes as normal and tricky track conditions.   This resulted in several rounds of lane swap shuffling that often resulted in 4 cars being backed out and moved several times before the round would begin.
The thing is that it's the most challenging about this place is that there are four lanes.   And you have to have lane choice and there are four to pick from and this place is so challenging because there are four to pick from and the starting line is tough.   Our goal of the day was maintaining lane choice every round and we did a good job of that," said Alan Johnson outside the winner's circle celebration.