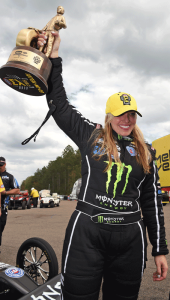 It was a magical day filled with smiles for NHRA Top Fuel driver, Brittany Force at the 47th annual Amalie Motor Oil NHRA Gatornationals.    The third-year driver made it to her eighth career final in Top Fuel against Terry McMillen, the second consecutive final after a narrow defeat against Leah Pritchett in Phoenix.   This time, Brittany Force lands first career Top Fuel win, capturing the lead in the championship points for the first time in her career as well.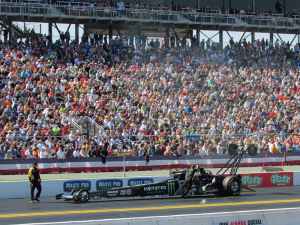 The Monster Energy Top Fuel dragster was the car to beat all day long.   Brittany posted the quickest passes in every round of eliminations, leading up to the final.
Gatornationals Top Fuel Round 1 Eliminations
In the first round, she would face Morgan Lucas, a former 2012 Gatornational champ and an adversary she had not yet scored a victory against in their two prior meetings.   But in round 1, she would leave first and never look back.  Brittany defeated Morgan Lucas with a 3.739 second run at 319.45 mph over his losing 3.770 second, 316.75 mph effort.
Gatornationals Top Fuel Round 2 Eliminations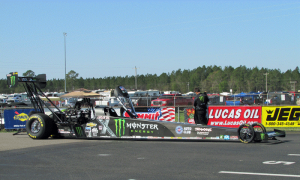 Brittany would face rookie Tripp Tatum – the 26th competitor she has faced in Top Fuel, and although the Monster Energy dragster dropped a cylinder at launch, Brittany would keep it in the groove through to the finish, running a 3.808 second, at 311.05 mph.    Tatum would run a clean 3.890 at 320.05 mph, but it wasn't enough for the win.
Gatornationals Top Fuel Round 3 Eliminations
Brittany Force, Terry McMillen, Dave Connolly and Clay Millican remained in the semi-finals, each vying for their first victory in NHRA Top Fuel competition.  The first pair would see McMillen take the win after Millican smoked the tires at the start.   Brittany proceeded to dispatch Connolly, running her best effort all weekend – a 3.729 second at 323.89 mph.   This would give Force lane choice over McMillen in the final.
 Gatornationals Top Fuel Final Eliminations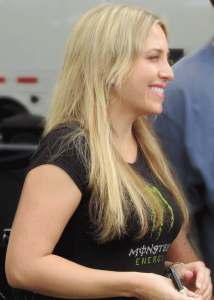 The final round would see the addition of a 102nd different winner in the history of Top Fuel to the books.   McMillen was vying for his first at his longtime sponsor, Amalie Oil's title event, while Brittany hoped to bring home the first Top Fuel win for John Force Racing.    Brittany has appeared in eight previous finals, against six different opponents.  But wait no more, as Brittany Force lands her first career Top Fuel win – running a 3.772 at 318.77 mph against McMillen's 3.981 second, 266.90 fireball, engine expiring effort.
Brittany is sixth different driver that Alan Johnson has tuned to their first pro win after Blaine Johnson in 1995, Gary Scelzi in 1997, Bruce Sarver in 2000, Shawn Langdon in 2012 and Khalid alBalooshi, also in 2012.   She is the ninth different woman to win in Top Fuel – joining Shirley Muldowney (1976), Lucille Lee (1982), Lori Johns (1990), Shelly Payne (1993), Christen Powell (1997), Melanie Troxel (2006), Hillary Will (2008), and Leah Pritchett (2016) in the record books.  Her win coming after Pritchett's inaugural wally in Phoenix, not only makes it the first time since 1982 that two different women have won a Top Fuel race in the same season, but also at consecutive races, after Shirley Muldowney won the 1982 Gatornationals and Lucille Lee also won the next race in Atlanta.
Photo: Gary Nastase

Last weekend was incredible and we almost made it there and I was definitely very bummed but very proud of my entire team because they worked so hard to get here.  Today when we came out here, and driving out to the track and I was feeling good,"  Force said from the winner's circle.  "As a driver I had that feeling, I had it in my stomach and just felt like we were going to go all the way.  We finally did and I have been chasing this for so many years and this is a proud moment to be standing here today.  I have to thank my entire team, my crew chiefs Brian Husen and Alan Johnson – thank you for getting us here.   I love all my guys.   Thank you to my family, especially my dad, for giving me this opportunity."
Brittany leaves the Gatornationals event with the Top Fuel points lead heading into the next event, the DENSO Spark Plugs NHRA Nationals, April 1-4 in Las Vegas, NV.
Watch Brittany Force lands first career Top Fuel win
The first time is so so SWEET! Brittany Force wins her first Top Fuel Wally in Gainesville. Share to congratulate. #NHRA #AmalieGatornats

Posted by NHRA on Sunday, March 20, 2016