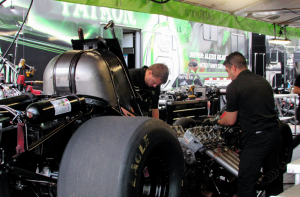 The Kalitta Motorsports Tequila Patrón team had their work cut out for them entering the 47th annual NHRA Gatornationals as NHRA Funny Car driver Alexis DeJoria adapts to new chassis changes made between races.
Following the Phoenix race, Team Patrón decided to run teammate and 2015 Funny Car World Champion Del Worsham's back-up chassis going forward. Despite the initial challenges, crew chief Tommy DeLago feels confident that the adjustment will pay off in the long haul and make Team Patrón that much more competitive as the 2016 NHRA Mello Yello Drag Racing Series season labors on.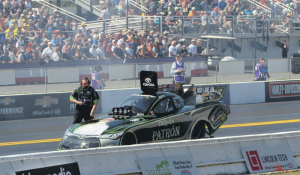 The Patron team struggled to make it down the track throughout most of qualifying during this weekend's three-day history-rich event at Gainesville Raceway. The car failed to make a full pull until the fourth round, where a run of 4.041-seconds at 314.61-mph put them in the No. 12 qualifying spot going into round one of eliminations.  Sunday morning, DeJoria found herself without the advantage of lane choice against opponent Matt Hagan.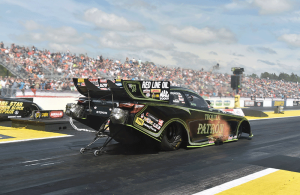 DeJoria was able to make progress, powering her Patrón Toyota Camry down the drag strip in 3.992-secs in the opening session, her best run of the weekend.  But it wasn't enough to take the win, as the Patrón team came up short against Hagan's 3.966-second run, ending their day early in Gainesville.
This weekend we started running Del's back-up chassis," said DeJoria, a three-time Funny Car winner, adding, "Our car that we started the year off with had a ton of runs on it so we wanted to try out a new chassis and see if making that change could get us back to where we want to be performance-wise.    That being said, there are a lot of different things on the car that we all need to adapt to. Not only is the chassis different, taking different input from the crew chiefs, but as a driver, the steering wheel is different, the brake handle is different, the reverser is different, my seat belts are different; so it might take a race or two to get this thing handled. We're chipping away at it, little by little, and once we figure everything out, I think we're going to do really well. We made another full pass again today and we're back in the three-second range again, so that's a plus. We didn't get the round win but we were really concerned about trying to make progress with this new setup that we have."
DeJoria made it to Round 2 in the Pomona season opener, but also exited in the opening round in Phoenix.    They are hoping the chassis changes will help them to regain ground in the Funny Car points chase, where she currently sits in the No. 9 position.   The team is looking forward to the upcoming 17th Annual DENSO Spark Plugs NHRA Nationals on April 1-3 in Las Vegas, where Alexis earned her second Funny Car win previously.
"I think Vegas will be good- we're looking forward to that race," DeJoria said. "This chassis will prove to be much better than what we ran in the first two races."