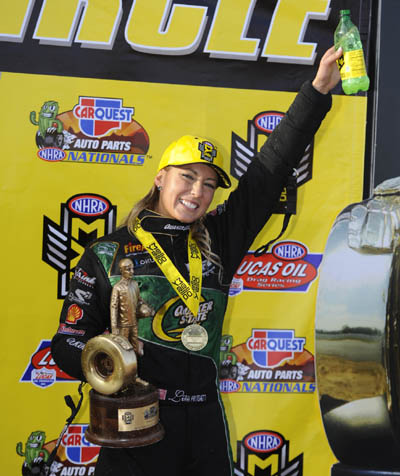 NHRA racer Leah Pritchett earned her first career win in the Top Fuel class this weekend during the CARQUEST Auto Parts NHRA Nationals at Wild Horse Pass Motorsports Park in Chandler, Arizona.   The emotional win not only marked the first win in Top Fuel for Leah Pritchett, but the all-female final also had historical significance for women as well.   Pritchett had previously campaigned limited schedules in Top Fuel during the 2014 & 2015 seasons with Dote Racing, before becoming a free-agent at the end of 2015.
First win in Top Fuel for Leah Pritchett
After qualifying in the No. 10 position with a 3.859 second, 314.31 mph effort, Leah Pritchett would begin Sunday's eliminations facing JR Todd in round one.    She would take the lead off the starting line and never look back, running  4.361 at 245.54 mph to Todd's losing 4.612 at 168.05 mph.
In round two, she would face former NHRA Top Fuel champion, Antron Brown.    However, this match was over before it began, as Brown left before the tree, handing Leah a rare red-light victory.   Undeterred in the other lane, she ran 3.808 at 322.19 mph to earn lane choice entering the next round.
For the semi-finals, Leah would face Clay Millican, a competitor she had yet to beat in Top Fuel competition.   Maintaining stealth-like reactions on the tree, she was able to defeat Millican with a 3.832 at 317.05 mph to his losing 3.878 at 299.86 mph.     A clean pass, but not enough to secure lane choice.    Pritchett would advance to her second career final in Top Fuel, where she would be facing fellow female racer, Brittany Force.    Last season, Pritchett reached the final round in Atlanta, where she took the runner-up against Antron Brown.
Historic All-Female Top Fuel Final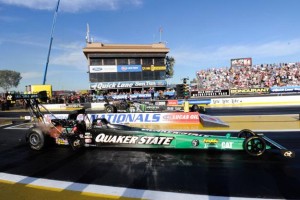 Much anticipation built for the all-female final round.   Both racers were vying for their first career Top Fuel victory, and both had made big changes in the off-season that were making quite a difference in their on-track performances:  Leah having joined the Quaker State/BVR team full-time for 2016, and Brittany's Monster Energy team forming an alliance with reknowned tuning ace Alan Johnson.    Statistically speaking, Leah had the advantage over Brittany in their previous meetings at 3-1, but Brittany had run consistently in the 3.70 range all day Sunday.   It was anyone's race to win.
When the tree dropped, Leah's consistency at the tree would pay off, taking the advantage off the line with a 0.046 second reaction over Brittany's 0.067.   Both thundered down the track side-by-side, but Leah would hang on for the victory with a 3.775 second, 323.12 mph performance to Force's faster, but losing 3.774 at 321.35 mph pass.     Her quickest run of the weekend, the hole-shot marked the first win in Top Fuel for Leah Pritchett.
It is the happiest day of my life, besides getting married, of course," said Pritchett. "This is what dreams are made of."
The win pushes Leah Pritchett and her Quaker State/ BVR team to the No. 5 position in championship points so far this season, after she was eliminated in the first round at the season opener in Pomona.
I feel like I just won the Super Bowl, even though it's only the second race and it's not the U.S. Nationals. For me, it's an incredible personal and Professional victory to be able to compete with the team that I'm with."
The first win in Top Fuel for Leah Pritchett placed her name in the record books as the eighth female driver to win in the Top Fuel category, and the 16th woman to win a Mello Yello Series race.  Leah and Brittany's match-up marked the first all-female Top Fuel final since Shirley Muldowney defeated Lucille Lee in Columbus, Ohio back in 1982.   It also marked only the forth all-female professional class final in the Mello-Yello series history, with the last coming when Angelle Sampey and Karen Stoffer battled it out in Pro Stock Motorcycle last season in Norwalk, Ohio.