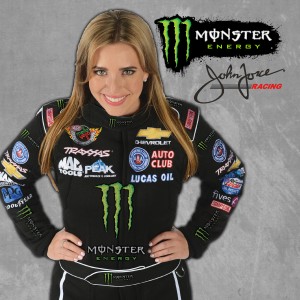 The long-awaiting announcement of the primary sponsorship on the Top Fuel dragster of Brittany Force was just announced.    Monster Energy Drinks has come on-board at John Force Racing to fully-fund the program, starting at this weekend's 35th Annual  Summit Racing Equipment NHRA Southern Nationals in Atlanta, GA.     The contract with Brittany and the Top Fuel operation will extend for the next 3 years as a primary sponsor, with associate billing on the rest of the John Force Racing camp.
Monster Sponsorship
VP of Sports Marketing for Monster Energy, Mitch Covington, is excited for the company's return to drag racing, having previously backed veteran driver, Kenny Bernstein in 2006.
""You can't even mention drag racing without including John Force and John Force Racing," said Monster Vice President of Sports Marketing Mitch Covington. "Their winning dominance and high performance heritage are simply unmatchable. John is a personality that actually transcends the sport and his daughter Brittany is every bit the fierce competitor as her dad – and she's a lot prettier than John. The next generation of JFR, Monster Energy is thrilled to have Brittany at the controls of the Monster Energy Top Fuel Dragster this season. Monster is all about unleashing the beast, and there is no other beast like a 10,000 horsepower, asphalt wrinkling, Nitro guzzling dragster."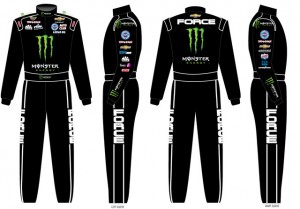 Having tried to make in-roads himself with Monster previously no to avail, news of a meeting from persistent efforts by Brittany and Courtney left him skeptical.    But the girls were able to put the presentation and pitch together, landing a deal that pleasantly surprised Force.
John Force first approached us about this deal over a year ago, but it wasn't his presence that sold this opportunity," said Covington.   "The credit for this goes directly to Brittany and Courtney Force, who were the ones that really delivered the presentation, and put this deal into motion."

"When the meeting finally occurred with Monster, you could already feel an electricity in the room.   It was as if they were already Brittany's best friends.  I am so proud of this next generation, because they are showing they have what it takes not only on the racetrack, but that they are doing what it takes on the business end as well."  John Force, CEO of John Force Racing, Inc.
Monster's activation of their brand and their athletes is also a great added bonus to the partnership between the companies.   Known for the cross-promotion of their athletes across a wide variety of different extreme sports, Brittany's likeness would join that of Ken Block, Rob Dyrdek, Vaughn Gittin Jr and many more in the Monster camp.   The expected involvement with NHRA Drag Racing will be similar to their presence with NASCAR in terms of marketing activation, with some limitations in respect to the series title sponsor, also a beverage company.
Brittany Force could not be more pleased with the pairing, saying that her entire team are huge fans of Monster, stocking the drinks in their pits long before the announcement was made.
I am so excited to be teamed up with Monster Energy as the primary sponsor on my Top Fuel Dragster. You see the Monster logo on everything from NASCAR to Action Sports and to have them back in the NHRA seems like a perfect fit. The great thing about partnering up with Monster is how easy it will be for me to promote their brand because my team and I love to drink Monster. I can't wait to get them into the winner's circle. My whole team is fired up and we will definitely unleash the beast starting this weekend," said Brittany.
The team is expected to debut their full Monster Energy livery at this weekend's NHRA event in Commerce, GA .