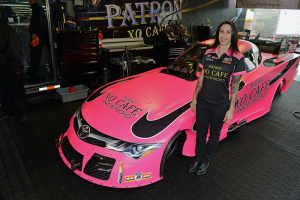 Its been a dismal, cold, soggy weekend so far at the 31st annual NHRA Keystone Nationals at Maple Grove Raceway, but Alexis DeJoria's new Breast Cancer Awareness livery was hot enough to light up the pits in Reading, PA.    The NHRA Funny Car driver unveiled her new #FightLikeAGirl hot pink Patrón XO Cafe Incendio Toyota Camry livery today during a brief dry moment, the only racing action of the wet weekend so far.
Alexis DeJoria Breast Cancer Awareness Funny Car livery
DeJoria's hot pink livery will be run all month long in honor of Breast Cancer Awareness Month.    In conjunction, her Free Mammograms for the Fans program will give fans the opportunity to take part in free screenings to detect problems early.
"October is Breast Cancer Awareness month and we got to debut our bright pink Toyota Camry today during the first round of qualifying. We're going to be running this pink scheme at the Dallas and Las Vegas October events as well. I'm looking forward to blinding all of my competitors!" joked DeJoria of her neon pink Camry and matching pink parachutes.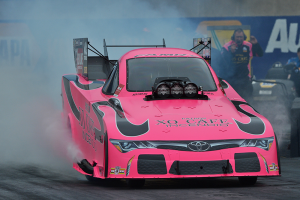 The rain and cold weather at the Maple Grove track this weekend made Saturday's qualifying attempt the only action of the weekend thus far.    Teams struggled to make it down the track, and Alexis was only able to post a 13.036 second pass at 76.76 mph for the No. 14 qualifying position.   If the weather cooperates tomorrow, she will face No. 3 qualifier, Jack Beckman, in the opening round of eliminations.
ESPN will air today's qualifying rounds and Alexis' hot pink Funny Car tomorrow morning, October 4  6:00 a.m. – 7:30 a.m. EST (ESPN2)