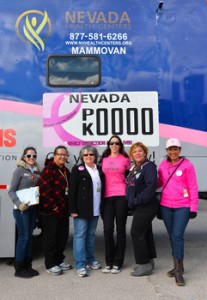 While many professional athletes celebrate Breast Cancer Awareness month by wearing pink uniforms or using other pink-ribbon awareness, NHRA Funny Car racer Alexis DeJoria goes above and beyond to fight the disease.   Her "Free Mammograms for the Fans" program returns for the third year, allowing female race fans the opportunity to receive a free mammogram in the mobile mammovan while attending the NHRA race.
Alexis DeJoria Racing partners again with the Nevada Health Centers (NVHC) to offer any female ticketholder over the age of 40 attending the NHRA Toyota Nationals event in Las Vegas (Oct 30-31), a free mammogram, regardless of health insurance status.  In addition, she has partnered with Baylor Health Care Systems (BHCS) for a similar program at the AAA NHRA FallNationals in suburban Dallas (Oct 16-17).
"With the success of 'Free Mammograms for the Fans' the last two years, we decided to expand the program to include the Dallas race, which now falls during National Breast Cancer Awareness month in October," said DeJoria, an Austin resident who will proudly sport a hot pink Patrόn XO Cafe Incendio Toyota Camry Funny Carthroughout October in NHRA Mello Yello Drag Racing Series competition.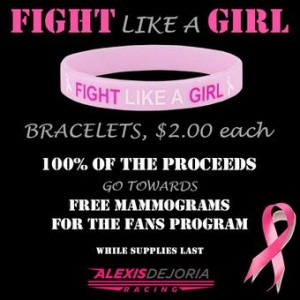 Alexis DeJoria has been raising funds for the cause with the sale of special "Fight Like a Girl" bracelets, with 100% of the proceeds going to the "Free Mammograms for the Fans" program.   The addition of presenting sponsors Patrón Spirits Company and Toyota assisted the program's growth to Dallas and the Texas Motorplex.
"I really want to thank the Patrón Spirits Company and Toyota for their support, as well as Kalitta Motorsports, everyone who bought items on our eBay fundraising page, purchased our pink Fight Like a Girl bracelets and made donations," said DeJoria, who has qualified for the NHRA Countdown to the Championship playoffs. "It all goes toward this very wonderful life-saving cause and we would not be able to provide this service to our fans without their support."
Those wanting to get screened at the race do not need an appointment or referral. Although health insurance is not required, those who are insured should bring their insurance information to the race. Test results will be sent via mail approximately ten days following the event.
"Toyota is extremely supportive of everything that each of our teams does to help promote Breast Cancer Awareness Month, and we are excited that working extensively with Alexis DeJoria Racing on their 'Free Mammograms for the Fans' program has afforded us the opportunity to make an additional impact," said Ed Laukes, Vice President marketing, performance and guest experience for Toyota Motor Sales, U.S.A.  "If we are able to save the life of so much as one mother, daughter, sister, wife or friend, it will be well worth our additional investment in our partners at DeJoria. It truly is rewarding to be able to assist one of our race teams on a program that is so meaningful to so many people."
For more information, please visit www.alexisdejoria.com.