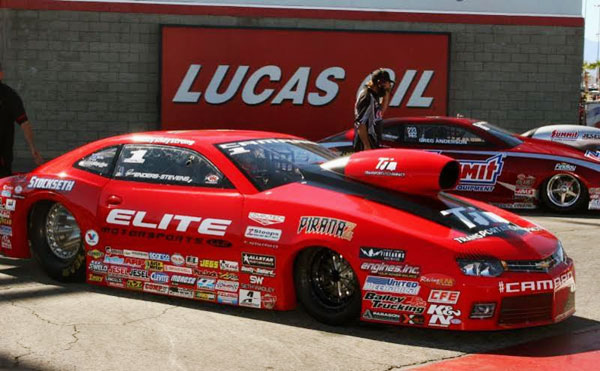 Erica Enders
reset both ends of the track record in the second qualifying session of the NHRA Toyota Nationals
on Friday
at The Strip at Las Vegas Motor Speedway, earning her the provisional No. 1 qualifying spot.   Enders  has the opportunity to clinch the championship in Pro Stock if she can leave Las Vegas with a 151-point lead.  She began the race with a  154 point lead, padding that by three based on qualifying points from the first two sessions.
Her 6.559 seconds at 210.28 mph run set track records for elapsed time and speed at The Strip at Las Vegas Motor Speedway, and it was the fastest corrected run in Pro Stock history — taking into account altitude and other factors — at 6.381 seconds at 216.65 mph.
"I'm glad we were able to accomplish it," Enders said. "Having said that, we've got two more important runs

tomorrow

. We need to scoop up all the qualifying bonus points we possibly can and try to stay on the pole. We need to go into

Sunday

with our heads down and get to work. We've got a lot to accomplish still, and I want to win the race. I want to make it four in a row. I couldn't be more proud to be their driver; they're an awesome group of men."
 Las Vegas has been good to Enders, with dominant performances at The Strip over the past two years, sweeping both national events in 2014 and winning here in April. To go along with those two victories, Enders has won the special K&N Horsepower Challenge here the last two years.
"I think we have 18 consecutive round-wins here, and the goal is to get to 22," Enders said. "Having said that, we go back to taking things one at a time. My guys performed really well here, and my crew chiefs seem to have a good handle on this track and the dry air.   Our race car is working. We stumbled onto some stuff in Dallas that we had been working really hard to figure out. As most people watched, they could see our performance change a little bit

on Sunday

. We certainly translated that to here. I'm excited and cautiously optimistic to be in the position we're in."
 Enders posted the quickest ET in both qualifying sessions this weekend, but her Q2 pass was the most impressive, netting her the track record in Vegas.
"We made a good run in the first session," Enders said. "The weather (for Q2) was actually not as good as it was for the first session, so we really just stepped on it. I could not be more proud of my team. Our Elite Performance horsepower is really showing through right when we need it most. Pair that with our excellent teamwork, and my driving has been pretty decent lately. The sky is the limit for us.
Qualifying will continue today at 12:15PM and 3:45PM Pacific Time (UTC-08:00).  Eliminations are scheduled to begin at noon on Sunday.