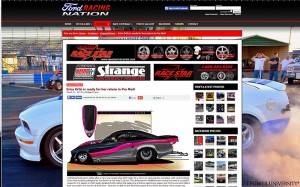 Erica Ortiz and the Horsepower & Heels Pro Mod Mustang comeback project is featured on the Ford Racing Nation website in an article written by Bridgett Davis.   The article discusses some of the history behind Erica's previous racing experience and the hardships she endured when initially starting the Mustang project in 2007, and the current ReIgnite efforts to return to racing in 2015.
Read the article:  http://fordracingnation.com/features/general-news/715-erica-ortiz-is-ready-for-her-return-in-pro-mod
Ford Racing Nation
Ford Racing Nation is a popular online website community geared to racing enthusiasts who love the Blue Oval.
Published Online: March 30, 2015